STOCKTON FIELD AVIATION MUSEUM
---
WELCOME TO THE STOCKTON FIELD AVIATION MUSEUM'S WEB PAGE
The Stockton Field Aviation Museum is a nonprofit all volunteer organization that is dedicated to the preservation of our countries rich aviation history. Our museum has a special emphasis on WWII aviation and the equipment that was used by the people who designed, built, maintained and flew the aircraft of our countries greatest generation. We are dedicated to preserve the material, technical information and the stories of not only Stockton Field but of all of our countries military aviation heritage.

ANNOUNCEMENTS

<![if !vml]><![endif]>Our next meeting will be Wednesday, May 20th at 7pm

Our guest speaker is Raymond Kinney who has a vast amount of aviation experiences which he will share with us at the meeting. Here is an outline:

Summary of Aviation Activity, Raymond Carroll Kinney

c 1939 I became interested in aviation just before and during the Battle of Britain. I began building and flying model airplanes – an activity that continues today.

1947 I went on my first flight in an early model Luscombe Silvaire

1949 After high school graduation, I joined the Air Force Reserve at Hamilton Air Force Base. Served as an airborne radio operator in C-46 Commando Aircraft. I also flew in AT-6, AT-7 and AT-11 aircraft.

1950 Enrolled at San Jose State University Department of Aeronautics. I also enrolled in the Air Force ROTC Commissioning Program. Elected president of Alpha Eta Rho International Aviation Fraternity (Two Semesters)

8 June 1956 Graduated from San Jose State with a BA degree in aviation and a commission in the USAF.

25 Jan 1957 Entered extended active duty in the USAF for officer pre-flight training at Lackland AFB, TX

22 Apr 1957 Assigned to 3301st Pilot Training Group at Moore AB, Mission Texas for primary pilot training. Soloed the T-34 A on 22 May 1957. Soloed the T-28 A on 8 July 1957. Graduated primary on 15 October 1957 and assigned to 3640 Pilot Training Squadron – T-33 A at Laredo AFB, Texas. I soloed in T-33 A on 15 January 1958. On 10 February 1958, designated pilot – day fighter

16 May 1958 My assignment to advanced training – KC 97 at Randolph AFB was cancelled, and I, along with 2 classmates were eliminated from further flight training

2 July 1958 Assigned to Harlingen AFB Texas for undergraduate navigator training in Convair T-29 aircraft

30 Aug 1958 I joined the first established aeroclub in the USAF. Flew Aeronca 7 AC, Piper PA-12 and PA-22, T-34 A

6 Mar 1959 I passed the flight check for a private pilot certificate ASEL.

6 July 1959 I graduated from USAF navigator training and was retained as an instructor, eventually becoming a flight examiner for basic DR, day celestial and night celestial navigation. Elected secretary of Institute of Navigation

28 July 1961 Reassigned to James Connally AFB after Harlingen AFB closed. Served as instructor and flight examiner for DR, day and night celestial and polar grid navigation. I continued to fly with the Connally Aero Club in Cessna 150, 172, 182 and T-34 A, becoming a check pilot in the T-34 and secretary of the Aero Club Board of Governors.

11 May 1963 Awarded a regular commission, Line of the Air Force

3 Mar 1965 Assigned to survival training at Stead AFB prior to overseas assignment

7 Apr 1965 Reported to 35th Troop Carrier Squadron at Naha, Okinawa as navigator and instructor in Lockheed C-130 A aircraft. For the next 3 years and 2 months I flew 255 combat missions and 755 combat hours over North and South Vietnam. Returned to the US 21 June 1968.

29 Aug 1968 Reported to Aerospace Rescue and Recovery Training Center, Eglin AFB, Florida as instructor/standardization flight examiner in HC-130 H/N/P aircraft.

15 Nov 1969 Began commercial flight training (GI Bill) at Enterprise Aviation at Crestview, Florida

7 Sept 1970 Passed multi-engine private flight check, Enterprise, Alabama, Hoover Moore DPE

30 June 1971 Reassigned to Hill AFB, Utah – 1550 ARR Training Wing with relocation of rescue school from Eglin AFB

30 July 1972 Reassigned to 41st Aerospace Rescue and Recovery Wing (MAC), Hickam AFB, Hawaii. Served as wing assistant chief of aircrew standardization, chief navigation flight examiner, wing staff navigator. Supervised the activities of 22 wing and squadron navigators in an area from the Mississippi River westward to the Indian Ocean. Flew in rescue precautionary orbit for "Eagle Pull" (evacuation of Phnom Penh). Acted as PACAF Rescue Advisor for "Frequent Wind" (evacuation of Saigon)

21 July 1974 Awarded Aeronautical Rating of Master Navigator

30 Nov 1975 Reassigned to McClellan AFB, Sacramento, California as Senior Emergency Actions Officer

2 July 1977 Resumed pilot training for commercial and instruments, Engle Flying Service

28 Feb 1978 Retired from active duty, USAF as Major with 21 years service

15 Mar 1978 Passed FAA instrument rating flight check, Martin Keane, DPE

17 Mar 1978 Passed FAA Commercial Pilot flight check, Martin Keane, DPE

16 June 1978 Passed FAA CFI-A flight check, George Roope, Sac GADO

15 July 1978 Hired by Engle Flying Service, Phoenix Field, as a flight instructor

21 Sep 1978 Passed FAA CFI-I, Howie Wheelock, Sac GADO

26 Dec 1979 Passed Assistant Flight Instructor check Part 141, Bud Andersen ,Sac GADO.

19 Feb 1980 Passed Part 135 Air Taxi check, Martin Keane, DPE

2 Sept 1980 1st CFI renewal – Awarded Gold Seal. Total time as CFI: 2128 hours

6 Dec 1985 Engle Flying Service closed. Hired by Patterson Aircraft as CFI-Part 141

4 Nov 1986 Commercial multi-engine flight check complete

6 Nov 1986 Appointed Chief Flight Instructor Part 141 at Patterson Aircraft Company, flight check by Richard Neilson, Sac FSDO

9 June 1989 Passed CFI multi-engine flight check, Martin Keane, DPE

26 Sept 1995 Coronary Artery blockage requiring 2-way bypass operation; normal recovery, no heart damage. While awaiting a special issuance medical, I taught private and instrument ground school and simulator training at Paterson and Skywalk School

16 Oct 1997 Received a special issuance Class III medical certificate. I resumed flight instruction at Skywalk and flew another 1000 hours before officially retiring from active flight instruction on 1 June 2002 after 24 years.

18 June 2003 Last flight as a sole manipulator of controls RDD-SAC, T-182 RG 757HF, Dr. Renollett, PIC

22 Sept 2011 Flew at the Salinas Airshow in a Tora Tora Tora modified AT-6 "Zeke" five-ship formation with Commemorative Air Force pilot "Col" Mike Burke

For more information about the WWII Warbird Group you can visit: http://www.twinbeech.com/warbird_group_page.htm.

For more information about the Stockton Field Aviation Museum click here

If you, or a friend, would like to be placed on our e-mail list to be informed about upcoming events, just send an e-mail to me at: list@twinbeech.com
---
Past events and information:
Hello everyone,
I wanted to let you know about an event coming up here at the Stockton Field Aviation Museum.
January 11th, 1941 was the official dedication of Stockton Field which became what is today what we know as Stockton Metropolitan Airport.
<![if !vml]>
<![endif]>

Next week on Tuesday January 11th, 2011 is the 70th anniversary of this dedication. We would like to celebrate this event here at the museum and I wanted to let you all know what we are planning.

The exact details of the dedication and what went on are not known but we do know that they flew special envelopes and letters that day which carried commemorative stamps and cancellations. We have one of these envelopes in our collection which is the one of the reasons why we know about this event. Here is a photo of this envelope:

<![if !vml]>
<![endif]>

The postmark is for 4:30 pm so we are going to have a small get together on this coming Tuesday January 11, 2011 starting at 4pm. We are going to recreate these special envelopes and will fly them in our 1943 Twin Beech just like they did in 1941. We hope to have a few people with Stockton Field history give a few words about their experiences.

Stockton Field played a vital role in WWII as an Advanced Training base where thousands of fledgling aviator earned their wings and went on to help win WWII. Many who trained here gave the ultimate sacrifice for their country and for that we are all eternally grateful. It would be a shame to let this day go by without recognizing the contribution Stockton Field made not only in WWII but all throughout its history.

<![if !vml]>
<![endif]>

So come on out and join us for the 70th anniversary celebration of Stockton Field. We will tell you what we have learned about and we will show a bunch of pictures that the museum has collected over the years. If you know anyone who might want to share their Stockton Field stories please have them get in touch with us as we would be happy to have them come out.

Thanks,

Taigh Ramey

Stockton Field Aviation Museum
---
We would like to have a reunion for anyone who may have trained or worked here at Stockton Field. If you have any information, photographs or memorabilia about this field please share it with us as we have very little information as yet.
We need the following specific items:
Class annuals for Stockton Field any year or class (ex. 43-A) as we have none.
Any photographs no matter what the subject matter.
News letters such as "Twin Props" which were published here.
Any orders, correspondence parts or what have you relating to the field.
Uniforms or flying gear. Leather jackets, flying helmets or any flying gear is especially appreciated. We especially like to have the history behind the people who wore them to stay with the items.
Actually we like anything WWII aviation related so please don't let that stuff get thrown away!
One gentleman who read the above request for information is Bob Dethlefsen who graduated from Stockton Field, Class 41-I on December 21st 1941, right after the Japanese attacked Pearl Harbor! He was kind enough to send me some of his documents that are very helpful in preserving the history of Stockton Field. One of his documents showed that he was flying the DC-3 and the Boeing 247 early in his training at Stockton. I was fascinated by this and I asked him to elaborate and this is what he had to say:
Hello Taigh,
I have driven by Stockton Field many times in the past few years, and have often wondered if anything remained of the WW2 activities. It wasn't until a few days ago, when I stumbled on your website, that I was aware of the budding museum. Don't know how I missed it since I have been on the internet for 15 years.
Briefly explaining the Boeing 247--
A few days after graduation, six of us (I have no idea of how we were chosen) were sent TDY to Air Corps Training Detachment, Reno, Nevada. Three of us drove to Reno in my spanking new RED 1942 Plymouth Convertible, on December 22, 1941, and quickly discovered that there was no "Air Corps Training Detachment". For whatever reason, I don't remember, we went to the El Cortez Hotel, and there found that it was the "headquarters" we were looking for. Only difference was that the show was being run by United Airlines. After a week of ground school, at the hotel, we started two-engine flight training. The instructors were United line pilots and the aircraft we used were regular United planes that were used between their scheduled flights through Reno. We received a total of 50 hours, 25 B-247 and 25 Dc-3, with an even mix of day, night and instruments. When finished, we were certified as 2-Engine first pilots, and returned to Stockton. As you can probably see from the photos, it snowed practically every day we were there, so it really was some good real world training. I am not quite sure that I would have felt secure riding as a passenger behind someone with my limited experience at that point. Since this was a civilian school, we were required to obtain a student pilot license, and as military students we were required to carry parachutes. Since we had just entered the war, Reno had hardly ever seen a soldier, let alone six 2nd Lts with wings and leather jackets. I have no idea how it was arranged, but three local socialite families entertained us royally for the entire Christmas-New Years season. Really tough duty.
Regards, Bob
Here are some photos that Bob sent over of the DC-2, Boeing 247 and flying at Stockton Field. Click on the image for a larger picture.
Thanks for sharing your experiences with us Bob. If you have something to help preserve the history of Stockton Field or WWII aviation please share it with us.
For more information about Bob and his WWII experiences visit his web page by clicking here.
We have a new web page with information on a Stockton graduate who then became an instructor. His name is Ray Wolf and you can click here to see his web page.
If you would like to share your Stockton Field experiences here please do so. I will gladly post appropriate photos and text if you would like to send it to me just e-mail t
We also need money to help sustain this effort. Right now Vintage Aircraft is the sole supporter of this museum. Our goal is for the museum to become financially self sufficient. We are a 501C3 non profit, for public benefit organization and we are presently applying for our tax exempt status with the IRS. Any help that you can give us is greatly appreciated!
FOR SOME INTERESTING HISTORY ABOUT STOCKTON FIELD VISIT STOCKTON FIELD.COM BY CLICKING HERE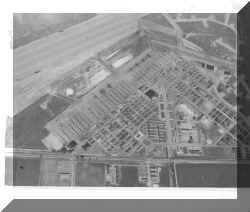 Here is a great aerial image of the field during WWII from Leila Gains. Click on the image for a larger picture. There are over 150 North American AT-6's in this photo along with a B-17, B-25 and several Cessna AT-17's.
---
Here is a great e-mail from Mel Scarborough who graduated in the last class of cadets at Stockton Field; 44-A.
Greetings, Taigh.
I am one of the "bamboo bomber boys." My entire pilot training was in California. In those days of transportation by troop train, that was a long way from Mississippi.
My log book shows my first flight at the Visalia-Dinuba School of Aeronautics (affectionately referred to as "Old VD') in the Boeing PT-13D was on July 4, 1944. I was 19 years old. My last flight at Visalia was on September 4th.
My first flight at Stockton (in the UC-78) was on September 18.1944 with instructor Elmer J. Heinz, O-771022. Lt Heinz was from Kansas, but he married a Valley girl while I was stationed there. My last flight was on February 27, 1945. My class, 45-A, was the last pilot training class at Stockton. Graduation was March 11, 1945.
On April 1, 1945 the base became a part of Air Transport Command.
On March 29, 1945, I had my first instruction flight at Las Vegas AAF (now Nellis AFB) in B-17 Co-pilot school. I completed that training with my last flight on May 15, 1945. As you can see, that was a week after the German surrender, hence I was never assigned to an operational B-17 Combat Squadron.
I had a career of service (through the RF-4C) combining active AF duty with duty in the Mississippi and Kentucky Air National Guards. I retired on August 1, 1984, almost 40 years after my primary flight training at Visalia..... I retired as Colonel, USAF and B.Gen in the Mississippi ANG.
What a ride ! I wound up in California only because I had Pneumonia just before going to pre-flight, got set back a class, went west. I was always grateful for the experience. Stockton reminded me somewhat of my hometown of Jackson, Mississippi in size, etc. (I still remember a couple of 17-year old high school seniors there who came to the cadet club downtown.
It was simply wonderful to hear from one of my favorite assignments so long ago. Keep the flame burning bright.
Warmest regards,
Mel Scarborough
Thanks for sharing your experiences with us Mel and thank you for what you did for our country!
---
Here is an e-mail about the band at Stockton Field:
My Dad (deceased) served at Stockton Field from July 9, 1941 to November 1944, except for a short time at Fort Sumner (7/15/44 to September '44), . He graduated (have class picture) from AC Adv., Flying School and was a crew chief over air mechanics. Then there was a forced transfer into the military band (Mom remembers 142nd, Dad's diary mentions the 42nd, Stockton Field history the 542nd band?).
Original and other band members include: Al Smith, Joe Hosek, Christianson, Wellenbrock, Jackson, Albert Travnick, Don Nogle, Earl Saxton, Paul Faria, Warrant Office Mr. Sheets, Lancelle, Lt. Butler, Cpt. King, Sgt Fred O'Neil, Cpt. Lown, Pete Pinkerton, Col. Gilbert, (Razzendoff who goes AWOL and deserts, gets caught and restricted and court marshalled, busted and 87 days), Cpt. Shullenberger,
Some band history from Dad's 1942 diary:
Issued chairs and instruments, 1/13.
A Chase & Sanborn broadcast celebrates opening of the Chapel; with Jimmy Stewart, McCarthy Bergen, Abbott and Costello; Dad gets in the newsreel.
First military and dance band rehersal, 1/22.
Military band debut in front of the PX on 1/29.
All band members make non-com in the new rating system, 2/2.
Play for boys going to Victorville, 2/7.
Band plays the Officer's Club 2/8.
The dance band plays its first Stockton Field broadcast from Stockton Civic Auditorium, 2/11, which is recorded.
Second PX concert, 2/13.
Dance at the Armory, 2/14.
Playing retreat every night now, 2/17.
First military band broadcast from Hotel Wolf, 2/18.
Max Baer at base for an amateur bout, 2/19.
First concert under shelter in Chapel, 2/22.
The first graduation they play is 42-B, 2/23.
Play for a retiring sergeant, 2/28, and poor marching gets extra practice in PM.
Band plays for Eagle beer bust, 3/3.
Band broadcast, 3/4.
Play College of Pacific, 3/26.
Port of Stockton dance in mess hall, 3/27.
Brass section up at 5:00 AM to play 'Pay Day,' 3/31.
Smitty Emonds sole bugle tonight for first time and plays first 3 notes and freezes, 4/2.
Dance band at McClellan Field, 4/18, -$100.00
Enlisted men's dance, 4/30.
Official band pictures with cross belts taken 5/4 & 5.
Play first early morning Retreat, 5/13.
Play at baseball game and GI dance at Armory, 5/15
Dance band plays Mather Field, 5/23.
B 25s arrive in revetments, 5/25.
Play first U.S.O. dance, 6/20.
Plays the Dean Maddux show in Dobie Hanger 6/22
Pay day at new rate, $50.00, 6/30.
Play party for 81st and a bond drive parade in Stockton, 7/1.
Surprise inspection by Col. Tull, band is asleep, 7/2.
March in parade with necgar(?) helmets, white sam browns, and gloves, 7/4.
Play U.S.O. Wini Shaw Show at Dobie Hanger, 7/25
Plays graduation and picnic dance at Mickey's Grove, 7/26.
Mr. Sheets starts a School of Music, 8/4.
Play dance at 80th Rec Hall, 8/14.
Play for Ice Follies at Dobie Hangar, 8/5.
Field getting a second band, 8/10.
Plays organization dance for 374th in Rec Hall, 8/18.
The 42nd band plays for boys going to Colorado, 8/20.
Plays for Ronald Coleman, Lynn Bari Bond Drive Show, 9/2
Yellow Light Canadian bombers on field, 9/26, when he returns from furlough.
Play 74th boys off to Idaho 9/28.
Play fight and the graduation of the first class of Flying Sargents, 9/29.
"PLAY DANCE FOR JIGS AT CIVIC [Auditorium]. COLORED DRUMMER SITS IN, FAIR."
Play over PA System first time at Retreat, 10/3.
10/26-30 and again in November: Band members are working at Flotil Products (.73 cents/hour): feed cans on belt from box car, loading boxes onto trucks, handle garbage, or truck tomatoes ($1.00/hour) nights (for extra spending money?).
(Capt. Hindesley is in charge of all Air Corps bands between Stockton and Ft. Worth. Gets Mr. Sweets Air Cadets March published 11/11/42. He also writes Parade of Fliers)
Plays two U.S.O shows, one for white boys and the other in colored troops theater, 12/10.
Great information! Thanks for sending it.
---
Here is a link to a touching song to our WWII veterans:
http://www.managedmusic.com/beforeyougo.html
---
THE STOCKTON FIELD AVIATION MUSEUM IS LOCATED AT THE STOCKTON METROPOLITAN AIRPORT IN STOCKTON, CALIFORNIA IN THE UNITED STATES OF AMERICA
THIS MUSEUM IS DEDICATED TO THE HEROES OF OUR GREATEST GENERATION. TO ALL OF YOU WHO FOUGHT FOR OUR COUNTRY IN WORLD WAR TWO, WE THANK YOU!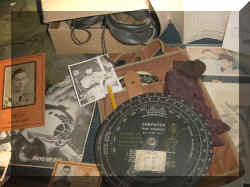 BUTTONS AND LINKS TO A FEW OF THE MUSEUM DISPLAYS AND INFORMATION













PLEASE BEAR WITH US AS THIS IS A WORK IN PROGRESS. WE WILL BE ADDING MORE AND MORE ITEMS AS WE CAN.
OUR ADDRESS IS:
7432 C.E. DIXON STREET STOCKTON, CALIFORNIA 95206
PRESENTLY WE ARE OPEN BY APPOINTMENT ONLY AND WE HOPE TO HAVE THE MUSEUM OPEN DURING REGULAR HOURS IN THE NEAR FUTURE. WE ARE OPEN FOR WWII WARBIRD GROUP MEETINGS THE FOURTH WEDNESDAY, EVERY OTHER MONTH. PLEASE CHECK THE WWII WARBIRD GROUP PAGE FOR MORE INFORMATION. CLICK HERE TO VISIT THAT PAGE.
FOR MORE INFORMATION PLEASE E-MAIL:
OR CALL (209) 982 0273
TO ALL OF OUR COUNTRY'S VETERANS, WE HERE AT VINTAGE AIRCRAFT WOULD LIKE TO SAY:
THANK YOU FOR WHAT YOU DID FOR OUR COUNTRY!
HOME PAGE VINTAGE AIRCRAFT ANNOUNCEMENTS JOB OPPORTUNITIES STOCKTON FIELD AVIATION MUSEUM WWII WARBIRD GROUP WARBIRD-RIDES B-25 OLD GLORY AIR SHOWS AND EVENTS AIRCRAFT FOR SALE BEECHCRAFT RC-45J HOW THIS BEECH 18 MADNESS BEGAN THINKING ABOUT A TWIN BEECH PROJECT? BEECH 18 GROUND TRANSPORTATION BEECH 18 SPAR STRAP KITS TECHNICAL MANUALS AND PUBLICATIONS TWIN BEECH PHOTOS BEECH AT-11 KANSAN RESTORATION OF AT-11 41-27603 NORDEN BOMB SIGHT WWII RADIO PAGE B-29 42-65401 NOSE SECTION VOLUNTEERS SEARCH THIS WEB SITE CONTACT US
VINTAGE AIRCRAFT
7432 C.E. DIXON STREET
STOCKTON, CALIFORNIA USA 95206
(209) 982 0273
(209) 982 4832 FAX
KEEP 'EM FLYING...FOR HISTORY!