LOCKHEED PV-2D HARPOON AS A FIRE FIGHTING AIR TANKER
---
Created 02/15/2016
Updated 5-2-11
To skip to the latest edition click here
Here is a thread on Warbird Information exchange on our Harpoon project from the start:
http://warbirdinformationexchange.org/phpBB3/viewtopic.php?f=3&t=38160
The main reason that this Harpoon survived is because she was converted to a fire bomber. All but 7 of her flight hours were fighting fires or flying in support of that mission. Many different people flew her throughout her tanker career and thankfully many of these wonderful folks took photos of her. Here are those photos. If you happen to have any shots of Tanker 37 or Tanker 101 please let us know as we would love to add them to this page.
If you also have any stories of flying Harpoons while fighting fires please write those experiences down and send them to me and I will post them here for everyone to enjoy.
These are the first photos of N6657D taken by Milo Peltzer just after she was converted from a Warbird to a civilian aircraft. She has not been converted to an air tanker as yet as you can see she still has her bomb bay doors.
Just click on an image to see a larger picture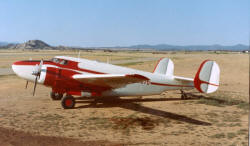 Pete Bowers took the next two photos in 1962. She first became Tanker 37 and received a fiberglass tank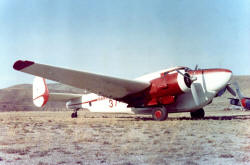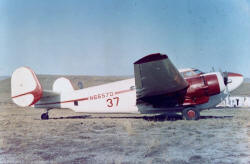 This shot which was provided by Peter Marson, who authored the wonderful book called Lockheed Twins. It shows the early fiberglass tank and the Wenair Company nose markings when she was at Bill Dempsay's field in Kansas.
These next two shots were taken by Milo Peltzer at Missoula, Montana (MSO) in 1976. Notice that she changed from Tanker 37 to Tanker 101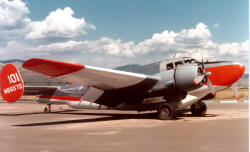 These two photos was taken by Dick Phillips in Brainard, Montana in April of 1979. Thanks for loaning me the slides to copy Dick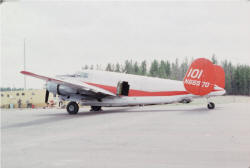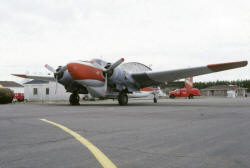 These next two photos were taken by Larry Kraus during the fire season of 1980. Thanks for the photos Larry!
The first one shows Tanker 101 in the background framed by another Harpoon Tanker 38 and B-17 Tanker 68.
The next two photos of 57D was taken by Dick Phillips in May of 1982. Notice the change of markings on the tail, nose and engine nacelles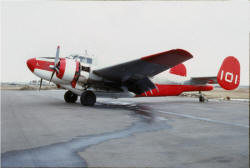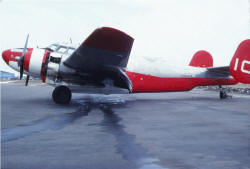 These next two shots, also from Peter Marson, show her in Kinney Tanker markings. She has spray booms attached to the trailing edges as she was a sprayer for a while reportedly flying against grass hoppers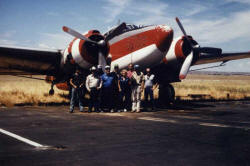 This shot shows John Hirth servicing the Harpoon
The next two photos were taken by Byron Sunwall who was a copilot on T-101. Thanks Byron for sending me these photos for me to copy. Notice that the Kinney Air Tanker markings on the nose have been removed
From left to right:
Guy (Rusty) Shoemaker, John Hirth, Connie Hirth, ...
From Craig Stebbins:
Some of the individuals, standing in front of the airplane in the two pictures are identified on your webpage: John and Connie Hirth, Byron and Rusty, (dressed in blue). Guy, "Rusty" Shoemaker was an A&P/IA who worked for Kinney Aviation/Kinney Airtankers and also worked for several other operators at the GDV airport over the years. Rusty passed away back in 1994.
I would guess the picture was taken somewhere in the 1984-1985 timeframe.
The other two individuals in the pictures, depict a man and a woman. The man in the tan pants is none other than Bruce Kinney himself, and the woman is, I'm assuming, his girlfriend, but I'm not sure which one...
As you know, Bruce Kinney was killed in a mid-air collision in Idaho back in the late 1990s.
Thanks Craig!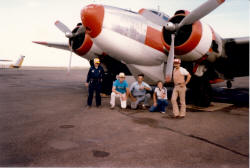 Notice the gun nose in the extended position. This sure was a nice way to access the nose and the area behind the instrument panel. Byron Sunwall took this picture at Hazelton, Pennsylvania. You can also see that the nose and the speed rings on the cowling had been repainted
Craig Stebbins believes these were taken at taken at the Glendive airport, GDV, in Montana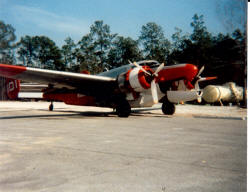 This is Byron standing nest to the right engine
Here she is during an engine change. This photo was provided by Peter Marson. Her left propeller and cowling can be seen under the right wing.
The front office of Tanker 101
These shots were taken during the preparation for her trip to California by Bill Hyler. Bill was a copilot flying air tankers for John and Connie Hirth. He was asked to fly right seat on Tanker 101 for her flight out to California. Bill said it was a trip of a lifetime and thankfully he brought along a camera. Thanks so much for sharing your photos Bill.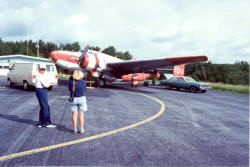 John and Connie were hired by Ralph Johnson to prepare 57D for her trip across the country to the Johnson Ranch. They also provided the flight crew for the trip.
The two card board boxes just inside the door were the old carburetors that were replaced with fresh overhauled ones. The two barrels of oil were brought along to supply the oil needed for the long trip!
Here is Bill Hyler, John Hirth and Gene Akers just before Gene and Bill departed for California
She is all ready to go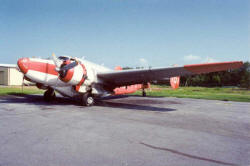 Connie and the late John Hirth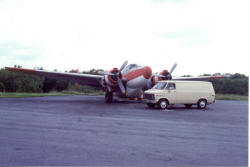 These next shots were taken by Bill on the trip across the country. Bill reports that they flew from Hazelton, PA to Mid State, PA to Findlay, OH to Peru, IL to Ames, Iowa to Columbus, NE to Kearney, NE to Lyman, WY to Elko, NV to Truckee, CA and then to the Johnson Ranch near Middletown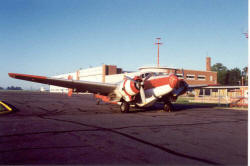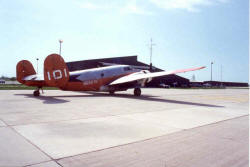 Bill in the right seat
Gene Akers at home in any Harpoon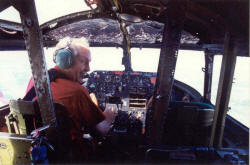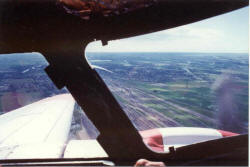 Gene and Bill fly the required low approach before they land at the Johnson Ranch. You can see the hangar at the end of the runway on the right
A proud and happy new owner, Ralph Johnson, poses for a photo with Gene Akers on the right and Bill Hyler on the left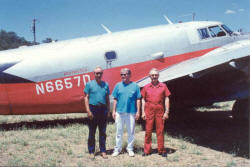 The day she arrived at the Johnson Ranch. This was the first day of her 16 year slumber
To skip ahead 16 years to see her awakening click here
---
If you have any Tanker 101 stories that you might like to share please write them down and e-mail them to me and I will be happy to post them for everyone to enjoy. Send them to tanker101@twinbeech.com
---
Here is our first e-mail. Thanks Ken for writing!

I happened up on your piece regarding restoration of Tanker 101 and was delighted to see the photos of its rebirth. I knew Tanker 101 during its wild land firefighting days as a contract tanker for the SC Forestry Commission during the 1980s. The plane was operated by Kinney Air Tankers out of Washington or Oregon and was commanded by a veteran pilot named Jim Keel.

During the 1985 spring fire season, Tanker 101 was based in Walterboro, SC. It flew more than 100 missions for us over the course of about six weeks.

Your piece brought back lots of memories.

K

en Cabe

SC Forestry Commission (Retired)
---
To go to a web page about 84062 (N6657D or Tanker 101) in her brief military career click here
To see the gang at Vintage Aircraft bring Tanker 101 back to life for the first time in 16years click here
To check in on the ongoing restoration of PV-2D BuNo 84062 click here
Here is a forum thread on Warbird Information Exchange about the ongoing work done on 84062:
http://www.warbirdinformationexchange.org/phpBB3/viewtopic.php?f=3&t=38160
---
Here is a thread on Warbird Information exchange on our Harpoon project from the start:
http://warbirdinformationexchange.org/phpBB3/viewtopic.php?f=3&t=38160
TO ALL OF OUR COUNTRY'S VETERANS, WE HERE AT VINTAGE AIRCRAFT WOULD LIKE TO SAY:
THANK YOU FOR WHAT YOU DID FOR OUR COUNTRY!
HOME PAGE VINTAGE AIRCRAFT ANNOUNCEMENTS JOB OPPORTUNITIES WARBIRD-RIDES AIRCRAFT FOR SALE HOW THIS BEECH 18 MADNESS BEGAN THINKING ABOUT A TWIN BEECH PROJECT? BEECH 18 SPAR CONCERNS BEECH 18 SPAR STRAP KITS BEECH 18 GROUND TRANSPORTATION TWIN BEECH PHOTOS BEECHCRAFT RC-45J BEECH AT-11 KANSAN RESTORATION OF AT-11 41-27603 C-45H N314WN TECHNICAL MANUALS AND PUBLICATIONS STOCKTON FIELD AVIATION MUSEUM WWII WARBIRD GROUP NORDEN BOMB SIGHT WWII RADIO PAGE AIR SHOWS AND EVENTS VOLUNTEERS WAR STORIES B-25 OLD GLORY B-29 IT'S HAWG WILD B-29 42-65401 NOSE SECTION B-29 GUNNERY SYSTEM HUMOR SEARCH THIS WEB SITE CONTACT US
Stockton Field Aviation Museum
7430 C.E. DIXON STREET
STOCKTON, CALIFORNIA USA 95206
(209) 982 0273
(209) 982 4832 FAX
KEEP 'EM FLYING...FOR HISTORY!