THE WARTIME EXPERIENCES OF BENTLEY WEITZMAN, BOMBARDIER, 5AF, 380 BG, 530 BS, SOUTH PACIFIC
---
Dear Taigh Ramey:
Attached with this short note is part one of my WWII Memories. The remaining 4 parts to follow.
My presentation to high school history students is basically a condensed version of my written memories. My talks range from 40 minutes to one hour depending on the time allocation of the class.
I take the students on a combat mission including the bomb run, so I want them to have some knowledge of how the Norden Bombsight works. I explain (displaying a sketch) of how the bombs are dropped automatically when the two indices meet; I show the cross hairs on a screen using a transparency , a projector and a screen and explain the use of the knobs to keep the crosshairs on the target. Because of time restrictions the Norden Bombsight explanation has to be done quickly but thorough enough for a fast understanding.
I don't have a picture of the Norden to display and if you can forward several of the pictures we discussed, it would enable me to project a more accurate image of the bombsight to the students. I will be most appreciative of the pictures and literature which are available.
My sincere thanks to you for your warm reception to my recent telephone call.
Sincerely,
Bentley Weitzman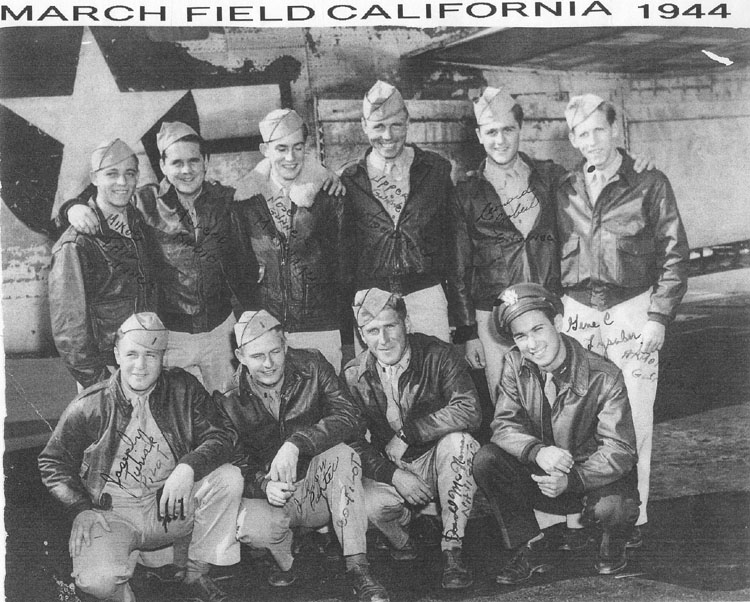 Bentley is the one on the right end of the bottom row.
It was January 1943 when we boarded a freezing troop train at the Van Buren street station in super cold Chicago . But who cared? The emotions were unbelievably high. Was the United States Air Corp spreading a malicious rumor? Destination--- Miami Beach-- IN THE WINTER?
It was balmy, it was breezy, it was full of sparkling stars and a moon with a sardonic smile that said "welcome Aviation Cadets". The scenario was calm and fantastic at the same time---for one glorious hour. That's how long it took to be voluntarily dumped on the corner of 30th and Collins Ave. next to the Monroe Towers . That's when our affable sergeant said "youse guys sleep on the street tonight, your rooms are occupied". A piercing start for mama's little boys.
The next day we moved in. Some of the guys would like to have moved out. Dirty mattress covers, no sheets, 5 in a room, double time up and down the stairs-- all put together in one nice cozy package. The elevator? Don't make jokes---we were naive young guys. The Monroe Towers , in all its glitter, glitz and flash was our home. Be nice to it.
Who can forget the . marches down Collins Ave. singing the Air Corp song at it's screeching loudest when passing a civilian hotel and who will never forget not having GI shoes for 3 weeks and marching, day after day, with cardboard stuffed in our loafers to cover the holes?. Those were days etched in timeless memories.
And how about KP at the fabulous Cadillac Hotel and marching down Indian Creek Drive to various golf courses for hours of close order drill in the hot afternoon sun. It was devastating and overpowering but it was the Air Corp and we were young and resolved to get through the training no matter what happened.
It was all new to the new Air Corp trainee. An unbelievable, dramatic, no holds bared change from civilian life. The naked truth reared its ugly head with the tough, inescapable knowledge our country was at the beginning of a world wide war and the prognostication of the ending was obscured in a fictitious time frame.
We were close to the German submarine patrols; the war was in our back pocket. Now you grow up and reach into your brain and come away with the realization you are part of a powerful force dedicated to defeat the enemy regardless of sacrifices.
It was going to be a world of Aviation Cadet nomenclature, months of great expectations and the steady, unrelenting progress of winning the war was now held in the capable hands of the young and innocent.
Time flew by quickly and it was now time to move on. And so we left the Beach with fond and solemn memories and now it was the beginning of some serious training.
From the Beach to Lafayette College in Easton, Pa. for intense classroom studies on physics, mathematics and world geography plus dynamic physical training and a small dose of flying at the local airport.
This was a solid college program and gave the potential cadets a background for important lessons to come.
After three months of a kinetic lifestyle, we were off to Nashville , Tenn. for classification. What do you want to be? Pilot. Bombardier or Navigator. The ambivalence sets in and quickly disappears. Take your pick, make a choice. Are you dreaming? You don't choose----you are told.
The Air Corp had many scintillating tests programmed for the little boys, now young men. Psychological, map reading, math, hand-eye coordination, eyes, hearing, physical fitness, intelligence, depth perception, color blindness, and a host of others which I can't remember. After 3 weeks of being screened, interviewed, tested, poked, prodded and perused and confessing to my indiscretions, the big news was posted---I made Bombardier and I didn't have the vaguest idea of what it really meant.
Our group was now shipped to Santa Ana , Calif. for more Air Corp basic training and intense classroom work. Much tougher than the Beach or Lafayette college, but by this time the gregarious Aviation Cadets are beginning to grow into what the uniform represents. They are proud to be in the Air Corp, proud to be a Cadet and especially proud to look forward to the day when they become Bombardiers.
We marched for hours in long parades, ran mucho miles every day, learned Morse code, learned with split second timing to identify airplanes and warships and learned to respect officers and the uniform. Hard work and tough training were handsomely rewarded. The Air Corp gave us an occasional week end pass to visit Los Angeles , Hollywood and the surrounding area. Pleasure time for the disciplined Cadet. What's wrong with that scene?. Nothing---except it didn't last. The great tour of California was over. Next stop on the See America merry-go- round ----Gunnery school at Kingman , Arizona . Where?
Kingman , Arizona was effectively known as the last barren, isolated desert town before you entered civilization. What were the gross negatives? Start with no heat in the barracks, no town, no passes, hot during the day, freezing cold at night and add terrible food and a heavy training load--- well, you get the picture.
On the amazing positive side is where the ingenuity and shrewdness of the United States comes into play.
The master overall plan of instruction was to take Aviation Cadets with little or no mechanical ability and show them how to take apart and put together the 100 some pieces of a 50 caliber machine gun. Time allocation to learn---One Week. Time allocation to perform-----30 minutes. Kicker in the master plan---do it blindfolded. In the eyes of a shaky Cadet this was a difficult project.
But we practiced and worked unrelenting for 7 straight days, 8 hours a day to learn the 50 caliber gun and then the blindfold was put on. At this juncture in time, all the moves and all the pieces became part of our existence and the blindfold only sharpened our ability to think on a higher level and it provided the positive concentration to get the job done. A huge kudo for the Air Corp.
After several grinding weeks of firing the 50 at stationery and moving targets on the ground, it's time to shoot the 50 in the air from a B17. A cloth sleeve attached to another B17 is the target. All rounds of ammo were color coded with each color representing a shooter; thus the colored holes in the sleeve represented a hit and the scoring was based on the number of hits divided by the number of rounds fired.
Finally the Kingman drudge was over and the big announcement was posted.
Assignment to a Bombardier Training School at Carlsbad , New Mexico where the real guts of learning to be a Bombardier lies. It's now Jan. 1944.
I walked into a huge classroom expecting to see the Norden Bombsight, instead I was face to face with a 5' high wooden mock-up of the Norden. Wheels, knobs, dials, bubble levels, spokes, plates and bars all meshing together, reminiscent of a Rube Goldberg invention.
As you turned the top dial you could see every move and the interaction with every piece within the structure. Basically, this is how the Aviation Cadet discovered the dark, unspoken and complicated secrets of the bombsight.
We studied navigation, the theory of the bombsight, the theory of bombing and we learned about the destructive bombs---from fragmentation to two thousand pounders. Long gone were the early enthusiastic, unaffected, Cadet days of marching to the drummer's beat and singing the Air Corp song.
Now it's time to move to a serious plateau---time to fly and bomb the targets.
We flew in a twin engine plane, equipped with the Norden Bombsight with two potential bombardiers, an instructor, and a pilot as the crew. Wooden shacks about 1000 square feet in size and located in the desert were our targets. The bombs were live, the instructors insensitive to stupid mistakes and the hot shot pilots were especially tough and contemptuousness when they put you on the right heading at 5,000 feet and you had no clue as to the target location.
Within 3 months all the difficult problems and all the exasperating situations fell into the right slots and the overall results became exceedingly positive. The skill to bomb a target from 10,000 feet with knife-like accuracy became obvious and efficiency scores and ratings soared.
In May of 1944, I graduated from Carlsbad Bombardier School , received my Bombardier wings and became an officer. The time progression was moving on----another stepped up assignment---report to March Field , California for combat training in a B24.
We had 3 short months to become a cohesive team. 10 young guys with different backgrounds, different personalities and different skills were assigned to form a new B24 bomber combat crew.
All had been highly trained for months---all dedicated and committed---all team players and each man had reached the summit of his action in the Air Corp------now a member of a bomber crew determined to bomb the enemy and fight the war in any part of the world.
It was the summer of 1944 and fight time was in short supply. The Japanese, all over the Pacific, were beginning to feel the relentless United States squeeze; more like a headlock with pressure coming from all directions. Cut off their supplies, bomb their airfields, control the air and the sea lanes, take away their oil sources and plant your feet in their guts and kick till they scream. And do it again and again---every day and night. That was the atmosphere and dialogue during those hot, steamy months at March Field.
Our new combat crew---Pilot, Co-Pilot, Bombardier, Navigator, Engineer, Radio Operator, Tail Gunner, Upper Turret Gunner and two Waist Gunners, working long and arduous hours, meshed together as a proficient, disciplined unit.
Almost every day and night we few simulated bombing and navigation missions up and down the massive California coast. We learned about tight formation flying and formation bombing and learned as much as we could about this immense war machine, the B24.
All too soon the 3 months came to an end and reality set in. All our training and all the hard work lead to a poignant fact---What did we know about actual combat? NOTHING. Ambivalence reared its frightful head again. We were shooting craps with our futures.
Precise orders came in---fly to Hamilton Field in San Francisco , California , pick up a new B24 and head for overseas during the first part of Sept. 1944.
It always amazed me that the US Air Corp would have the confidence, the belief and the trust in 21 year olds to give them a half-a-million dollar war machine, recently off the assembly line and say "fly it to Australia ". Sure we received a few days of training on how to ditch in water, of how to deal with sharks, of how to survive in the water and how to survive if captured,----but this trip was a long one. Training days were over. The young and eager bomber crew now grabbed the hot torch and ran with it.
The sun was shining brightly that early September morning in 1944 when we took off, fully loaded, from Hamilton Field, flew over the majestic Golden Gate bridge and was on our way to our first stop---- Hawaii ; all calculations clicked, like a precise instrument, and we landed in Hawaii exactly on schedule.
From the big H it was island hopping all the way. Canton Island --- Tarawa ---- Guadalcanal---- New Guinea and finally Australia . The week was tough, with little sleep and endless flying over water----this youthful bomber crew was now on combat alert.
The skies were a soft blue and the clouds seemed friendly, but we were flying over war zones and we were constantly on the alert for enemy shipping and enemy planes. All guns were fully loaded and all gunners ready for action. This was first tingling sensation of actually being involved in the war.
In Australia our new B24 was reluctantly taken from us for modification and immediately our crew flew to Darwin , Australia assigned to the 5th Air Force, 380th Bomb Group, 530th squadron to begin flying combat missions against the Japanese. This exciting move came with some apprehension---How do we fit in----what kind of outfit are we joining---and who do we know?. It's now the end of October, 1944
The 380th was a tough, battle seasoned group of combat veterans. In June of 1943 they were sent to Australia to protect Northern Australia from the Japanese aggressive air attacks. Enemy aircraft were based only 90 miles from Darwin Airfield and had already savagely destroyed planes, hangers and equipment. A possible invasion by ground troops was hanging, with threateningly implications over the Australian population. This was a precarious wartime situation.
The 380th fiercely terminated these air attacks by destroying enemy bases, aircraft and supplies. This group flew and fought courageously, with tenacity and with the inner capacity to face danger and with the determination to neutralize and annihilate the enemy. There were many heroes who paid in blood and with their lives. For all of these accomplishments the 380th Bomb Group was awarded 2 Presidential Citations.
From Darwin we bombed the Japanese all over the Southwest Pacific. The targets ranged from the numerous airfields in New Guinea and the Celebes to the rich - with -oil fields in Balikipapin, Borneo and the huge submarine base in Java. And in between we bombed supply lines, railroad yards, warships, merchant ships, trawlers, docks, gasoline dumps and gun emplacements.
It was now April of 1945 and the great invasion to take the Philippines from the Japanese commenced. Our group,flying every day, participated in the successful invasion with strategic bombing missions at Leyete, Manilla, Mindinao and Mindoro .
Quickly we moved our base from Darwin to Mindoro in the Philippines and a different type of combat missions began. We flew long range missions, mostly over water, all in the 10 to 12 hour range. Across the Indian Ocean to strike Jap held targets at Saigon in French Indo China , and Canton , China . These were full length, arduous gas-guzzling-stressful flights, filled with enemy action at the target and the dark, silent sea as our enemy in the event of mechanical failure.
Our crew was now seasoned, courageous combat veterans. We flew and bombed every mission assigned to us---the easy ones and the tough ones. On a daily basis it seemed routine, but it wasn't. Every mission had its' danger--- take off with a full bomb load---engine failure---enemy aircraft---enemy flak---only the young could manage the life-threatening exposure of aerial combat.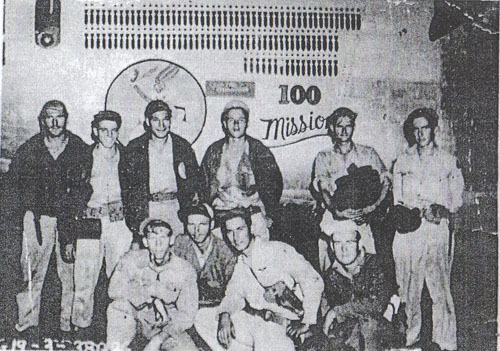 Bentley is the second from the right on the bottom row.
On June 22, 1945 tragedy struck our crew like a hammer to the heart. Our tail gunner, John, and upper turret gunner, Woody, were assigned to fly with a different crew on their initial combat mission. The plane crashed on takeoff and John, severely injured, was the only survivor; in a hero's manner, Woody made sure John was in the proper crash position. A devastating and heart wrenching loss.
One of the specific, difficult targets was the island of Formosa (now Taiwan ). We bombed nickel plants, hydraulic plants and air fields about every day. The war became rougher; we encountered enemy aircraft and heavy flak on every mission. The Navy patrolled the coast of Formosa to rescue flyers whose planes were shot down over water and were highly successful in this operation.
An interesting anecdote----Coming back from Formosa , it was necessary to land at Clark Field in Manila to refuel. Radio communication to our home base was made but somehow became entangled and was never received. We finally arrived about 6 hours late and we were off the crew scheduled board. Assumed missing in action.
It was now August of 1945 and time to move again--to Okinawa . At this juncture our crew had flown 40 missions and only needed a few more before returning to the states when the gigantic shocker of the war exploded----the unbelievable happened. An atomic bomb was detonated on Japan , its' powerful strength equal to thousands of planes loaded with one thousand pound bombs. The news was startling and difficult to understand.
A few days later the reality of this awesome bomb was heard. While watching a movie on a cloudless night on Okinawa , the announcement came over the loud speaker like an ear-shattering thunder. The Japanese had
capitulated--- surrendered---they were finished---the War was over!!! Amiss a litany of yelling and the raucous sound of exploding shells, from our ships in the harbor, I experienced a timeless sense of relief. It's over, it's really over---no more missions, no more flying with fear, I'm finally going home.
Thank you for writing this great account of your experiences Bentley. We really appreciate this and what you did for our country!
Should you, or someone that you know, want to share your wartime experiences with us please send them to me and I will post them for others to read. E-mail me at taigh@twinbeech.com
TO ALL OF OUR COUNTRY'S VETERANS, WE HERE AT VINTAGE AIRCRAFT WOULD LIKE TO SAY:
THANK YOU FOR WHAT YOU DID FOR OUR COUNTRY!
HOME PAGE VINTAGE AIRCRAFT ANNOUNCEMENTS JOB OPPORTUNITIES WARBIRD-RIDES AIRCRAFT FOR SALE HOW THIS BEECH 18 MADNESS BEGAN THINKING ABOUT A TWIN BEECH PROJECT? BEECH 18 SPAR CONCERNS BEECH 18 SPAR STRAP KITS BEECH 18 GROUND TRANSPORTATION TWIN BEECH PHOTOS BEECHCRAFT RC-45J BEECH AT-11 KANSAN RESTORATION OF AT-11 41-27603 C-45H N314WN TECHNICAL MANUALS AND PUBLICATIONS STOCKTON FIELD AVIATION MUSEUM WWII WARBIRD GROUP NORDEN BOMB SIGHT WWII RADIO PAGE AIR SHOWS AND EVENTS VOLUNTEERS WAR STORIES B-25 OLD GLORY B-29 IT'S HAWG WILD B-29 42-65401 NOSE SECTION B-29 GUNNERY SYSTEM SEARCH THIS WEB SITE CONTACT US
VINTAGE AIRCRAFT
7432 C.E. DIXON STREET
STOCKTON, CALIFORNIA USA 95206
(209) 982 0273
(209) 982 4832 FAX
KEEP 'EM FLYING...FOR HISTORY!