MARTIN 250CE UPPER TURRET
This page was last updated on December 30, 2004
---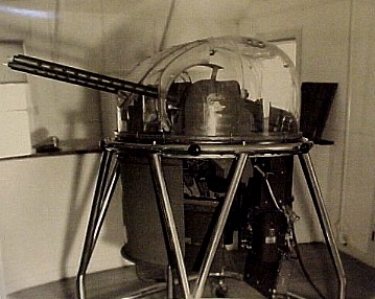 THE MARTIN 250CE TURRET WAS ONE OF THE MOST WIDELY USED TURRETS IN WWII. THE TURRET WAS ELECTRICALLY POWERED IN BOTH AZIMUTH AND ELEVATION. THE GUNNER SAT BETWEEN THE TWO 50 CALIBER GUNS AND WOULD FIRE THE GUNS WITH THE TRIGGER BUTTONS ON THE CONTROL GRIPS. THE FIRST TURRETS HAD VERY BASIC RING AND BEAD SIGHTS WHEREAS THE LAST PRODUCTION MODELS INCORPORATED COMPLEX COMPUTING SIGHTS AND GYRO CONTROLLED GUN STABILIZATION PLATFORMS.
THE MARTIN 250CE TURRET WAS INSTALLED ON THE FOLLOWING AIRCRAFT:
MARTIN B-26 MARAUDER
CONSOLIDATED B-24 LIBERATOR
DOUGLAS A-20 HAVOC
BOEING YB-40
CONSOLIDATED PB4Y-1 AND PB4Y-2 PRIVATEER (WHICH CARRIED TWO)
AND SEVERAL BRITISH AIRCRAFT INCLUDING THE LANCASTER.
THE LAST AIRCRAFT TO USE THE MARTIN 250CE WAS THE LOCKHEED P2V NEPTUNE WHICH FLEW FROM THE 1950'S THROUGH TO THE VIET NAM ERA.
THIS MARTIN 250CE-23A TURRET PROJECT IS BELIEVED TO HAVE BEEN INSTALLED IN A WWII NAVY AIRCRAFT BUT EXACTLY WHAT AIRCRAFT HAS YET TO BE DETERMINED. IT IS A RESTORATION PROJECT IN NEED OF A LOT OF WORK BUT IS QUITE COMPLETE.
THE DOME IS TRULY A RARE FIND AS IT IS IN FACTORY NEW CONDITION AND IS STILL COVERED IN ITS PROTECTIVE COATING.
THIS IS A MARTIN 250CE INSTALLED IN A CHEVY 1 1/2 TON TURRET TRAINER TRUCK. THESE VEHICLES WERE USED ON GUNNERY RANGES TO TRAIN AERIAL GUNNER STUDENTS.

THIS PHOTO SHOWS THE MARTIN 250 TURRET INSTALLED IN TOP OF THE COLLING'S FOUNDATION B-24J. THIS SHOT ALSO SHOWS OUR 1944 CHEVY M-6 BOMB SERVICE TRUCK TOWING A PAIR OF M-5 BOMB SERVICE TRAILERS.
TO ALL OF OUR COUNTRY'S VETERANS, WE HERE AT VINTAGE AIRCRAFT WOULD LIKE TO SAY:
THANK YOU FOR WHAT YOU DID FOR OUR COUNTRY!
HOME PAGE VINTAGE AIRCRAFT ANNOUNCEMENTS JOB OPPORTUNITIES WARBIRD-RIDES AIRCRAFT FOR SALE HOW THIS BEECH 18 MADNESS BEGAN THINKING ABOUT A TWIN BEECH PROJECT? BEECH 18 SPAR CONCERNS BEECH 18 SPAR STRAP KITS BEECH 18 GROUND TRANSPORTATION TWIN BEECH PHOTOS BEECHCRAFT RC-45J BEECH AT-11 KANSAN RESTORATION OF AT-11 41-27603 C-45H N314WN TECHNICAL MANUALS AND PUBLICATIONS STOCKTON FIELD AVIATION MUSEUM WWII WARBIRD GROUP NORDEN BOMB SIGHT WWII RADIO PAGE AIR SHOWS AND EVENTS VOLUNTEERS WAR STORIES B-25 OLD GLORY B-29 IT'S HAWG WILD B-29 42-65401 NOSE SECTION B-29 GUNNERY SYSTEM SEARCH THIS WEB SITE CONTACT US
VINTAGE AIRCRAFT
7432 C.E. DIXON STREET
STOCKTON, CALIFORNIA USA 95206
(209) 982 0273
(209) 982 4832 FAX
KEEP 'EM FLYING...FOR HISTORY!