TWIN BEECH PHOTOS
This page was last updated on December 30, 2004
---
Here are some beautiful pictures of Twin Beech's and other aircraft. If you have something that you would like to ad please send it along and I will post it. Please send the highest resolution that you can.
Click on the picture for a larger image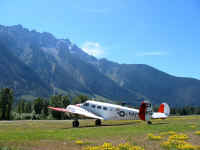 Here is an beautiful photo taken of our RC-45J by Stu Armstrong when the Beech was in Pemberton Canada. Thanks for sending the photo over Stu as I think this is one of the best photos of the Beech that I have ever seen.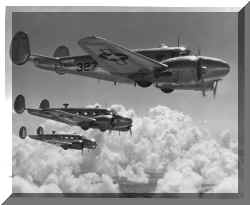 This picture comes from Gary Horstkorta. His father flew out of Corpus Christi where these pictures were presumably taken and trained radar operators. They are SNB-2C Navigation trainers. Note the three drift sights tubes that protrude from the bottom of the Twin Beech.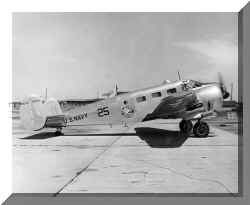 Here is another beautiful shot from Gary. Of interest is the APS-4 radar set mounted on a Mark 51 bomb rack under the nose. Even though this aircraft is stenciled as an SNB-2C it appears to be one of the first SNB-3E radar trainers. The SNB-2C had three student navigator stations on the right side if the aircraft just as the SNB-3E had for radar students. Thanks Gary!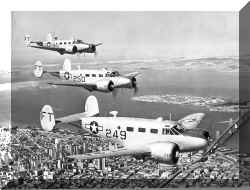 Here is a great shot of SNB-2C's out of NAS Oakland. This sure looks like a photograph that Bill Larkins would have taken. We can thank Ted Holgerson for this beautiful photo.
This next series of five pictures is a look through time at one particular Beech. SNB-1US Navy bureau number 51043.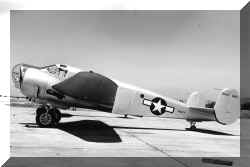 When researching SNB-1 Bureau number 51043 I called Bill Larkins who is one of the most well known aviation photographers around. Bill said that of the four photos of SNB-1's that he had in his collection, two were of my aircraft (51043). What are the odds? Here is one of the photos that he took in Hayward, CA on July 17, 1946 while the Beech was still in the Navy. She looks like she just rolled out of overhaul. We all owe Mr. Larkins a great debt of gratitude for documenting all of these great aircraft for the last 60 plus years. Thanks Bill! To see more of Mr. Larkins work click here: http://www.norcalaahs.org/larkins1.htm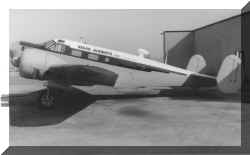 Here is the same SNB-1 when she was working for Vegas Airways in the late '50's. This picture comes from the most prolific Twin Beech historian, Bob Parmerter. Bob has recently written the ultimate book about Twin Beech history and we are all eagerly awaiting its publishing. This April I am told.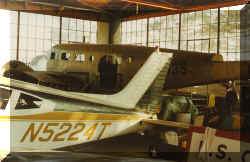 Some assembly required. 51043 sat derelict from the late 60's until I purchased her from the Yankee Air Force in 1990. Their division in Saginaw, MI had the aircraft and had decided to scrap her out. She was a sad sight with her wings and tail removed. Her oil and fuel tanks and a bunch of other parts all over the floor. I packed up all of the tools, engines and parts needed to get her flying and headed off to Saginaw. With the help of my friend Tim Cruz and the Hoffman family, we got her flying and flew her home 10 weeks after work started. Good thing the Yankee Air Force didn't actually scrap her as they had planned since she is quite a rare bird. Of the 320 SNB-1's made during WWII she is one of only two survivors.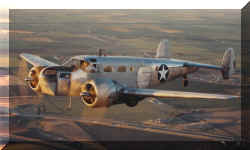 Ten weeks after the photo above was taken, she flew for the first time in over 30 years. While we were waiting for the FAA to give us a replacement Airworthiness Certificate, we had time to paint a star on her and put a piece of Plexiglas in the nose.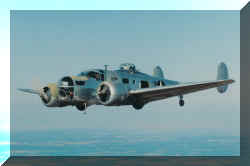 This is a shot of SNB-1 51043 in flight taken by Nick Veronico around 1995. She has the Crocker Wheeler Turret and fairings installed. As you can see in this photo, the cabin door and right side escape hatch were removed for air to air photography. For more information and photos about the SNB-1and the AT-11 click here.
Here is a JRB-1 which was photographed on 7-6-43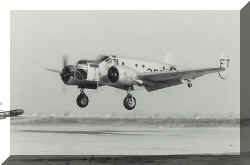 Another wonderful shot of an SNB-1 taken by Bill Larkins presumably in Oakland.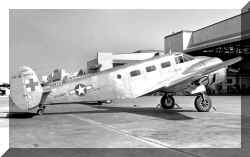 These next four shots were graciously provided by Bill Larkins.
A rare photo of an SNB-2HP at Alameda.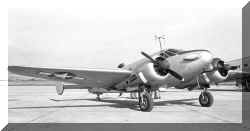 An SNB-3 with some very interesting radar modifications.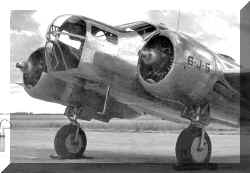 A nice close up of an SNB-1
A beautiful color shot of an SNB-5 at Moffett Field.
TO ALL OF OUR COUNTRY'S VETERANS, WE HERE AT VINTAGE AIRCRAFT WOULD LIKE TO SAY:
THANK YOU FOR WHAT YOU DID FOR OUR COUNTRY!
HOME PAGE VINTAGE AIRCRAFT ANNOUNCEMENTS JOB OPPORTUNITIES WARBIRD-RIDES AIRCRAFT FOR SALE HOW THIS BEECH 18 MADNESS BEGAN THINKING ABOUT A TWIN BEECH PROJECT? BEECH 18 SPAR CONCERNS BEECH 18 SPAR STRAP KITS BEECH 18 GROUND TRANSPORTATION TWIN BEECH PHOTOS BEECHCRAFT RC-45J BEECH AT-11 KANSAN RESTORATION OF AT-11 41-27603 C-45H N314WN TECHNICAL MANUALS AND PUBLICATIONS STOCKTON FIELD AVIATION MUSEUM WWII WARBIRD GROUP NORDEN BOMB SIGHT WWII RADIO PAGE AIR SHOWS AND EVENTS VOLUNTEERS WAR STORIES B-25 OLD GLORY B-29 IT'S HAWG WILD B-29 42-65401 NOSE SECTION B-29 GUNNERY SYSTEM SEARCH THIS WEB SITE CONTACT US
VINTAGE AIRCRAFT
7432 C.E. DIXON STREET
STOCKTON, CALIFORNIA USA 95206
(209) 982 0273
(209) 982 4832 FAX
KEEP 'EM FLYING...FOR HISTORY!