COME ON ABOARD...
AND TAKE A FLIGHT BACK IN TIME
IN THIS 1944 BEECHCRAFT C-45H
Click on an image for a larger picture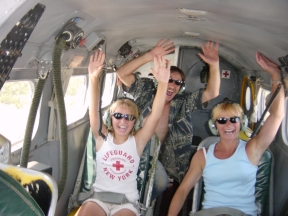 This Beechcraft began life in World War two as a Navigation trainer. She was built for the United States Army Air Forces as an AT-7 "Navigator" and was delivered to the Navigation School at Hondo Army Air Force Base in Texas on the 8th of March, 1943.
She continued to train Navigators through WWII and after the war she went back to the Beechcraft factory for major overhaul and upgrades for the U.S. Air Force. She returned to duty on November 30, 1953 with a new designation of C-45H and a new serial number of 52-10636. She then served with the Strategic Air Command in the 805th Air Base Group at Barksdale Air Force Base in Louisiana. She went to the 806th Air Base Group, also a SAC base at Lake Charles, Louisiana in September of 1955. In October of 1955 she transferred to the 3800th Air Base Wing at Maxwell Air Force Base. In August of 1956 she returned to the 806th Air Base Group until she was sent to Davis Monthan Air Force base for retirement and storage in the bone yard in Tucson, Arizona.
In December of 1958 she was stricken from the Air Force inventory and was transferred to the Washington Natural Resources Department in Olympia Washington where she began her civilian career. She first carried the civil registration number of N7163C and was given her current registration (N314WN) on the 15th of June 1962.
She has come a long way from her days as a Navigation trainer in 1943. Instead of teaching fledgling Navigators how to find their way, she is now teaching history. Come along for a flight back in time to hear and feel what it was like for those wonderful people from our Greatest Generation.
Come aboard and enjoy the rumble of two Pratt and Whitney 450 horse power engines as they take you on a flight back in time.
Our flights depart from Stockton Airport in California, which is south of Sacramento and East of San Francisco. We can also come and pick you up. We fly to various air shows and airport open houses to provide rides. Please e-mail for our schedule to see when we might be in your area. Please let us know when your local airport might be having an open house so we could attend.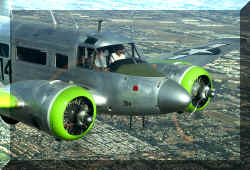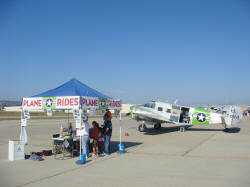 One hour flight $600
Longer flights and flight training available at $600 per hour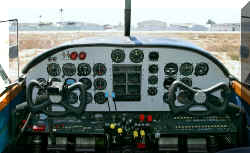 Each ride has six seats available depending which includes the co-pilots seat. $ 600 for the hour long flight, you can have the whole plane to yourself...and the pilot of course...or you can bring along five other friends all for the same price!
THIS FLIGHT MAKES A GREAT CHRISTMAS GIFT. WE HAVE VERY NICE GIFT CERTIFICATES AVAILABLE. THE WHOLE FAMILY CAN GO!
VISA AND MASTER CARDS ARE ACCEPTED
CALL OR E-MAIL FOR MORE INFORMATION
Flight instruction and transition training in the Beech18 at $600 per hour wet (includes the flight instructor)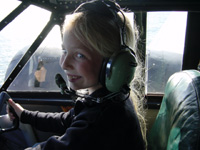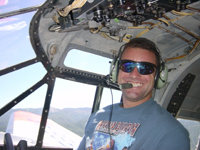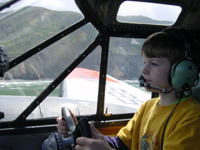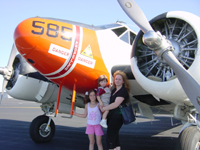 Click here for more ride photos
We offer in flight photos taken during your ride and developed into 4X6 glossy prints after your flight
for $5 each
Gift certificates available for all occasions, such as:
Birthday

Christmas

Fathers day

Mothers day

Graduation

How about a romantic evening flight for two to watch the sun set?

Business or corporate rewards and gifts for your employees
We can also provide flight and ground instruction in the Beech 18
We can assist you with the distribution of a loved ones ashes from this historic WWII aircraft, where four family members can attend the "final flight"
If you would like to schedule a flight or if you have any Questions or comments please call.
TO ALL OF OUR COUNTRY'S VETERANS, WE HERE AT VINTAGE AIRCRAFT WOULD LIKE TO SAY:
THANK YOU FOR WHAT YOU DID FOR OUR COUNTRY!
HOME PAGE VINTAGE AIRCRAFT ANNOUNCEMENTS JOB OPPORTUNITIES WARBIRD-RIDES AIRCRAFT FOR SALE HOW THIS BEECH 18 MADNESS BEGAN THINKING ABOUT A TWIN BEECH PROJECT? BEECH 18 SPAR CONCERNS BEECH 18 SPAR STRAP KITS BEECH 18 GROUND TRANSPORTATION TWIN BEECH PHOTOS BEECHCRAFT RC-45J BEECH AT-11 KANSAN RESTORATION OF AT-11 41-27603 C-45H N314WN TECHNICAL MANUALS AND PUBLICATIONS STOCKTON FIELD AVIATION MUSEUM WWII WARBIRD GROUP NORDEN BOMB SIGHT WWII RADIO PAGE AIR SHOWS AND EVENTS VOLUNTEERS WAR STORIES B-25 OLD GLORY B-29 IT'S HAWG WILD B-29 42-65401 NOSE SECTION B-29 GUNNERY SYSTEM SEARCH THIS WEB SITE CONTACT US
VINTAGE AIRCRAFT
7432 C.E. DIXON STREET
STOCKTON, CALIFORNIA USA 95206
(209) 982 0273
(209) 982 4832 FAX
KEEP 'EM FLYING...FOR HISTORY!