NAVY HISTORY OF 1945 LOCKHEED PV-2D HARPOON BuNo 84062
---
Created 11/12/2011 and still under construction
Here is a thread on Warbird Information exchange on our Harpoon project from the start:
http://warbirdinformationexchange.org/phpBB3/viewtopic.php?f=3&t=38160
This PV-2D was built in a group of Harpoons that were intended to fly against Japan for the final attack and invasion on the Japanese homeland. With the atomic bombs dropped on Hiroshima and Nagasaki that brought the war to a swift end the need for more aircraft was cut short and the remaining aircraft contracts were cancelled.
84062 was the third to the last PV-2 Harpoon built and appears to be the newest surviving Harpoon. Here is the information from her US Navy History card:
PV-2D 84062 was accepted by the Navy on September 9th, 1945
She was delivered to NAS Terminal Island on December 11th, 1945
Soon after she went to storage at NAS Litchfield Park in Arizona
She was retired on May 9th, 1956
84062 was stricken from the inventory on December 17th, 1956
PV-2D 84062 was sold surplus on the 12th of August, 1959 for the sum of $3678.89 and she had a total of 7.0 flight hours since new
Not much of a military career!
The photo above is of an early D model Harpoon that has the same basic paint scheme that 84062 would have had from the factory. Sadly we do not have any photos of 062 when she was in the military. With only 7 hours of service time since she was built its understandable that not too many pictures may have been taken of 062. We are very lucky that Brian Baker took some photos of the various aircraft stored at Litchfield Park in Arizona which is where 062 was also sat out the end of her Navy career.
The Photo below was taken by Brian Baker and came to us via Michael O'Leary and Rick Turner. This picture which was taken at Naval Air Station Litchfield Park where many of the Harpoons and other Naval Aircraft were stored including our very own 84062. The Harpoon in the photo below is of 84060 a mere 2 serial numbers earlier than 062. Thanks Brian for not only taking this wonderful photo but for sharing it with us too! Should you have any Harpoon photos, especially at Litchfield Park please share them with us and we will post them here for other's to enjoy.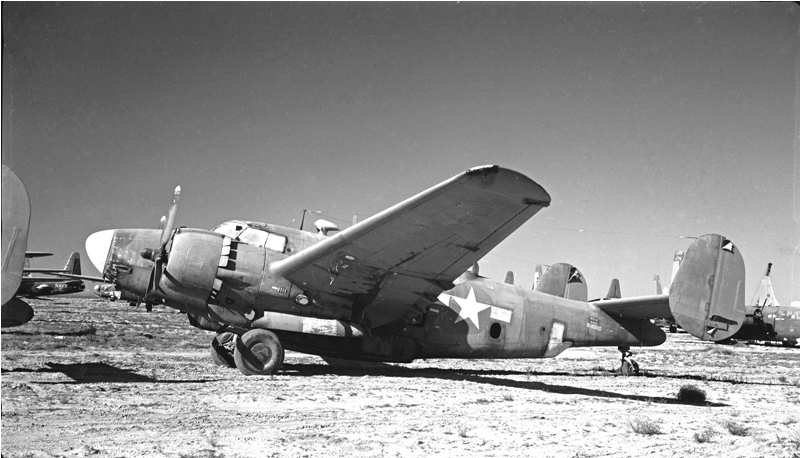 The nice thing about this photo is it shows exactly how our Harpoon was likely configured when it was made. Brian's awesome photo will help us to make sure that the paint, markings, stenciling and even the radio configuration is as accurate as possible.
This shot shows a factory new Harpoon, though not a gun nosed D model, in the overall Non Specular Sea Blue paint scheme common to the late war Harpoons. 062 was painted in this scheme.
Here is a photo from Rick Turner of his Dad's PV-2D Harpoon BuNo 84059 shortly after he bought the aircraft. This shot is wonderful because is clearly shows how the factory 059 was painted on the nose. Ours would have 062 on the nose in the same size and style. Thanks for pointing out the nose numbers Rick and for providing this great shot. Every shot has some great detail that helps us to understand and recreate the details on 062.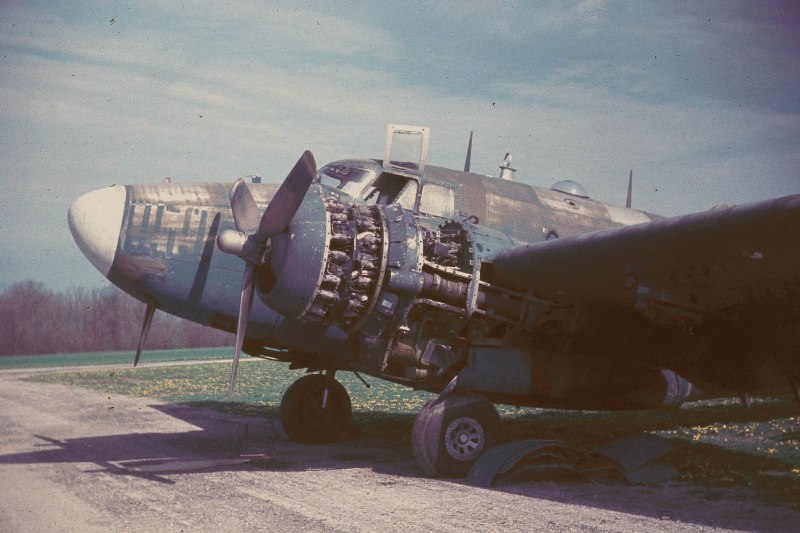 If you happen to have any Harpoon photos, especially one of our 84062, please let us know as we would sure love to see them.
To learn about this Harpoon's long life as an air tanker fighting forest fires click here
To see the gang at Vintage Aircraft bring Tanker 101 back to life for the first time in 16years click here
To check in on the ongoing restoration of PV-2D BuNo 84062 click here
Here is a forum thread on Warbird Information Exchange about the ongoing work done on 84062:
http://www.warbirdinformationexchange.org/phpBB3/viewtopic.php?f=3&t=38160
TO ALL OF OUR COUNTRY'S VETERANS, WE HERE AT VINTAGE AIRCRAFT WOULD LIKE TO SAY:
THANK YOU FOR WHAT YOU DID FOR OUR COUNTRY!
HOME PAGE VINTAGE AIRCRAFT ANNOUNCEMENTS JOB OPPORTUNITIES WARBIRD-RIDES AIRCRAFT FOR SALE HOW THIS BEECH 18 MADNESS BEGAN THINKING ABOUT A TWIN BEECH PROJECT? BEECH 18 SPAR CONCERNS BEECH 18 SPAR STRAP KITS BEECH 18 GROUND TRANSPORTATION TWIN BEECH PHOTOS BEECHCRAFT RC-45J BEECH AT-11 KANSAN RESTORATION OF AT-11 41-27603 C-45H N314WN TECHNICAL MANUALS AND PUBLICATIONS STOCKTON FIELD AVIATION MUSEUM WWII WARBIRD GROUP NORDEN BOMB SIGHT WWII RADIO PAGE AIR SHOWS AND EVENTS VOLUNTEERS WAR STORIES B-25 OLD GLORY B-29 IT'S HAWG WILD B-29 42-65401 NOSE SECTION B-29 GUNNERY SYSTEM HUMOR SEARCH THIS WEB SITE CONTACT US
VINTAGE AIRCRAFT
7432 C.E. DIXON STREET
STOCKTON, CALIFORNIA USA 95206
(209) 982 0273
(209) 982 4832 FAX
KEEP 'EM FLYING...FOR HISTORY!