AIR SHOWS AND OTHER FLYING EVENTS
---
This page was last updated on April 30, 2009
---
Well, our first two events went well! Thank you to all that came and took a ride in history!
We look forward to seeing you at our next event...Check our schedule below!
---
It's here...spring has sprung and we are ready to fly! The air show season is beginning and we are excited!
Our first stop for the year is Tracy Municipal Airport...they are having their 80th Anniversary Fly-In. April 25, 2009 8am to 4pm.
See you there!
Here's a list of our upcoming air show schedule.
Date Time Event
04/26/09 10am to 4pm Pacific Coast Dream Machines, Half Moon Bay, California, Half Moon Bay Airport.
05/02/09 9am to 4pm 1st Annual Rancho Murieta Airport Day, Rancho Murieta, California,
Rancho Murieta Airport.
For Immediate Release
RANCHO MURIETA AIRPORT DAY SCHEDULED FOR MAY 2, 2009
On Saturday, May 2, 2009 the local chapter of the Experimental Aircraft Association is hosting an AIRPORT DAY to be held between 9:00 a.m. and 4:00 p.m. The purpose of this event is to bring to our community and surrounding local area, an event that will spotlight the aviation activities that exist at Rancho Murieta airport, and also promote recreational aviation. This will not be an air show event, featuring aerobatic performers, etc., but rather a means by which regional participants can bring in their airplanes and classic cars for exhibition.
Activities planned for the day include: Aircraft and Classic Cars on display, Young Eagle Airplane rides for the kids, Aircraft fly-bys, Radio Control Model Airplane demonstrations, Historic Aircraft on display, Public Safety displays, and Food and Beverage sales. There will also be a helicopter, an open cockpit bi-plane, and a vintage twin engine aircraft available for those who wish to purchase rides. Community organizations have also been asked to set up booths to advertise and promote their services and activities.
Everyone is welcome to share this day of fun and discovery at the Airport.
Admission and parking is free. Adequate parking will be available adjacent to the airport.
05/09/09 10am to 5 pm There has been a change. WINGS & WHEELS We will be at the Kingdon Airport in Lodi California.
05/16/09 9am to 5pm Modesto Airport Appreciation Day, Modesto, California, Modesto Airport.
06/13/09 TBA Eagle Field Dinner Dance & Fly-In, Eagle Field, California.
06/20/09 & 06/21/09 TBA Columbia Father's Day Fly-In, Columbia, California, Columbia Airport.
10/04/09 TBA Wings & Wheels, Rio Vista, California, Rio Vista Airport
Any questions, please give us a call! (209)982-0273.
---
We are getting ready for the 2005 air show season. The B-25 and the Beech will be going down for their inspections in February in preparation for another busy flying year. We are taking reservations for our annual Oshkosh trip in the B-25. This year will be extra special as we are going with two B-25s in close formation all the way across the country. We have 10 openings for crew members (5 in each plane) who will be able to swap seats between the two bombers at fuel stops across the country. This will be the most exciting Oshkosh trip yet! Call to reserve a seat as they will be going quick.
---
September 11, 2004 The B-25 will be at Modesto for the CAF dinner dance.
September 15th through the 19th the B-25 will be at the Reno Air Races. Three seats are still available in the B-25 so if you want to arrive in style, call for details. We will have the best view of the races from the top of the B-25.
---
We recently attended the Pacific Coast Dream Machines show in Half Moon Bay. This was our first show of the season for the RC-45J and we were selling rides on Sunday. We had a record day and flew 24 rides. Combined with two B-25 flights and traveling to and from the show the I made 28 take off and landings. It was a long day!
Thanks to all of you who came out to the show and took a ride with us.
---
Air show season has arrived. We have been to several shows and events so far the first of which was the 62nd annual Doolittle Raider reunion in Tucson, Arizona. We departed Stockton and headed to Rialto to meet up with Bill Klaers and his wonderful crew in their B-25 In the Mood. We took off and joined up in a 2 ship of B-25's and circled over Banning awaiting the arrival of Tony Ritzman in the Pacific Princess. What an amazing sight to be in formation with two other B-25's!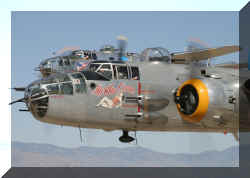 Click on the thumbnail images for a larger picture. This great shot was taken by Mark Fisher who has a beautiful web site with more beautiful pictures at;
http://gambit.acpa.ca/photo_warbirds_bombers.htm
We were off to Falcon Field to meet with one other B-25, Martha Jean owned and flown by Dave Wheaton, and the CAF's B-17 Sentimental Journey. After a briefing we took off and joined up on the B-17 for the short trip to Tucson. If the sight of two other B-25's in formation was impressive, imagine being on the right wing of a formation of one B-17 and four B-25's. Life is good!
The formation circled around Tucson and then made a pass over Tucson International where the Raiders and their family were waiting. The B-17 pulled out and the four B-25's joined up in a finger four for the missing man formation. Dave Wheaton was carrying the Raiders Goblets in Martha Jean and he pulled up as the missing man. We followed shortly after as all of the B-25's broke right for landing. Soon after we shut down the ceremonies for the reunion began.

It was a real honor to meet these true heroes from our greatest generation. We were also honored to be able to fly some of the sons, daughters and grandkids of the raiders on a flight around the airport where we made some passes down the runway.
This trip was made possible by the generosity of several people who were kind enough to help sponsor Old Glory.
John Ward and I would like to thank you for all of your help.
Col. Bob Wood was the mastermind behind our attendance.
Here Bob is pinning his US Navy wings on Jimmy's beautiful wife Linda. Watch out Jimmy, Bob has that look in his eye again!
We also want to thank Bill Klaers for all of his great help. Yes Bill, I owe you heavy!
---
TO ALL OF OUR COUNTRY'S VETERANS, WE HERE AT VINTAGE AIRCRAFT WOULD LIKE TO SAY:
THANK YOU FOR WHAT YOU DID FOR OUR COUNTRY!
HOME PAGE VINTAGE AIRCRAFT ANNOUNCEMENTS JOB OPPORTUNITIES WARBIRD-RIDES AIRCRAFT FOR SALE HOW THIS BEECH 18 MADNESS BEGAN THINKING ABOUT A TWIN BEECH PROJECT? BEECH 18 SPAR CONCERNS BEECH 18 SPAR STRAP KITS BEECH 18 GROUND TRANSPORTATION TWIN BEECH PHOTOS BEECHCRAFT RC-45J BEECH AT-11 KANSAN RESTORATION OF AT-11 41-27603 C-45H N314WN TECHNICAL MANUALS AND PUBLICATIONS STOCKTON FIELD AVIATION MUSEUM WWII WARBIRD GROUP NORDEN BOMB SIGHT WWII RADIO PAGE AIR SHOWS AND EVENTS VOLUNTEERS WAR STORIES B-25 OLD GLORY B-29 IT'S HAWG WILD B-29 42-65401 NOSE SECTION B-29 GUNNERY SYSTEM SEARCH THIS WEB SITE CONTACT USVINTAGE AIRCRAFT
7432 C.E. DIXON STREET
STOCKTON, CALIFORNIA USA 95206
(209) 982 0273
(209) 982 4832 FAX
KEEP 'EM FLYING...FOR HISTORY!