LOOK AT WHAT OUR VOLUNTEERS HAVE BEEN UP TO
---
CLICK ON AN IMAGE FOR A LARGER PICTURE
Jay Lawson was kind enough to take our poor old 1942 Ford Jeep under his wing. The Jeep had been on display in another museum for many years and she had gone down hill badly. She hadn't run in years and the fuel system turned to syrup and the brakes were bad. Jay took the Jeep away on a trailer and brought her back in great shape. He not only put a new starter on her and got the engine running but he overhauled the brake, did body work and painter her up real purty! I can't thank you enough Jay for your awesome hard work and dedication to this great old Jeep. She runs great and will enjoy running around the airport and heading off to military vehicle shows. Thanks Jay!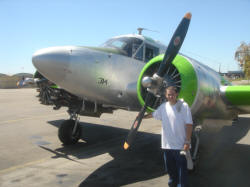 This is Brian Tressler who has been helping out around the shop. He is very enthusiastic and is a great help.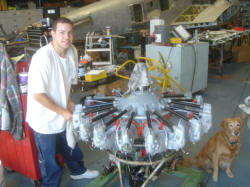 Brian is shown here working on the new R985 for the Beech under the watchful eye of Annie the Super Dog!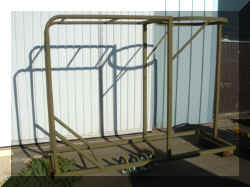 Brian Tetreault has been helping out quite a lot around the museum lately. He built and painted the stand for the Central Fire Control turret system and is in the process of making the wood floor, side panel and top. Brian is another one of us nuts that loves Warbirds and can't get enough of these great old planes. He also built the decking for the ball turret stand pictured below. Thanks Brian for all of your awesome help!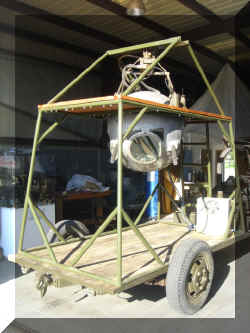 Jimmy Ricketts has been at it again. Here is the finished ball turret stand that Jim built. The stand was designed after an original WWII turret stand that I saw in storage at the National Air and Space Museum. It was made using the same tubing size and gusset patterns but we only put a ladder in on one side instead of both sides like the original. The stand is sitting on top of a WWII bomb service trailer made by Saginaw Stamping and Tool. This stand has made the ball turret fully functional and it was taken on its maiden flight by the famous 8th Air Force ball turret gunner Wilbur Richardson. At our Gunnery Symposium he demonstrated the ball turret to a big crowd and then answered questions from atop the turret. It was a great display which was made possible by Jimmy Ricketts. Thanks Jimmy for all of your outstanding work!

We needed a stand to display the Martin 250 Turret so Jimmy Ricketts took up the task and built it. Here Jim is grinding one of the uprights for a tight fit to the ring.

Jim and my daughter Sydney are justifiably proud of their new paint job on the turret stand.

The fruits of their labor and a great stand for the Martin turret!
Thanks Jim!
To visit the web page for the Martin Turret click here
---
Andrew McCue has been busy working on the 1942 Ford Jeep. The Jeep has been sitting for a while and hasn't run in many years. Andrew is breathing life back into the old girl.
The Jeep really appreciates your efforts Andrew
---
Terri and Mike have been a great help around the museum and with the B-25. In preparation for our trip to NAS Fallon they cleaned the interior of the B-25 from the nose to the tail.
Recently they straightened up the museum for a bunch of 8th graders who were visiting on a field trip. We had over 60 students show up to learn about aerodynamics and the principles of flight. Thanks to Mike and Terri, the museum was ready for the kids a whole day earlier than scheduled and Terry's artistic touch really made the museum shine.
Terri sure makes the bomber shine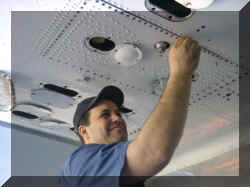 Here Mike is screwing up the B-25.
Thanks Mike and Terri!
TO ALL OF OUR COUNTRY'S VETERANS, WE HERE AT VINTAGE AIRCRAFT WOULD LIKE TO SAY:
THANK YOU FOR WHAT YOU DID FOR OUR COUNTRY!
HOME PAGE VINTAGE AIRCRAFT ANNOUNCEMENTS JOB OPPORTUNITIES WARBIRD-RIDES AIRCRAFT FOR SALE HOW THIS BEECH 18 MADNESS BEGAN THINKING ABOUT A TWIN BEECH PROJECT? BEECH 18 SPAR CONCERNS BEECH 18 SPAR STRAP KITS BEECH 18 GROUND TRANSPORTATION TWIN BEECH PHOTOS BEECHCRAFT RC-45J BEECH AT-11 KANSAN RESTORATION OF AT-11 41-27603 C-45H N314WN TECHNICAL MANUALS AND PUBLICATIONS STOCKTON FIELD AVIATION MUSEUM WWII WARBIRD GROUP NORDEN BOMB SIGHT WWII RADIO PAGE AIR SHOWS AND EVENTS VOLUNTEERS WAR STORIES B-25 OLD GLORY B-29 IT'S HAWG WILD B-29 42-65401 NOSE SECTION B-29 GUNNERY SYSTEM SEARCH THIS WEB SITE CONTACT US
VINTAGE AIRCRAFT
7432 C.E. DIXON STREET
STOCKTON, CALIFORNIA USA 95206
(209) 982 0273
(209) 982 4832 FAX
KEEP 'EM FLYING...FOR HISTORY!