WELCOME TO THE B-25, OLD GLORY'S WEB PAGE
This page was last updated on December 30, 2004
Old Glory is a beautiful B-25with a very interesting history.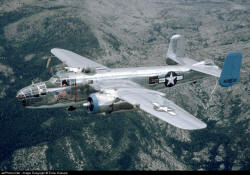 These amazing photos are from the great aviation photographer: Ernie Viskupic. Thanks Ernie for sharing these pictures with us.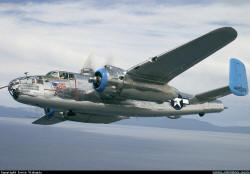 Ernie took these shots while were taken while paying tribute to the 500th bomb squadron members during their reunion in 2003. Three B-25's (Ted Melshiemer's Tootsie and Bill Klaers and Bob Lumbard's In the Mood) flew over these great veterans and their families while they were touring in a paddle boat on Lake Tahoe.
Just click on an image for a larger picture
Here is the man who is responsible for bringing Old Glory back to the West coast. John Ward, owner of Ward's Office Furniture, has a deep respect for the men, women and machines of WWII. His father flew as a gunner/engineer in PBY's in the Aleutians during the war. This shot shows John doing what he loves best; flying the B-25.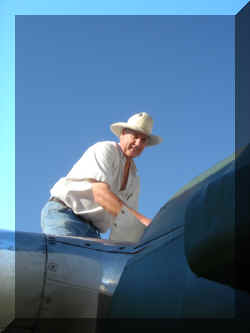 Here is John doing one of the things that he probably loves the least; feeding oil and fuel to the B-25. Old Glory has a voracious appetite for both!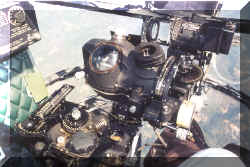 One other fascinating aspect of the history of Old Glory is that she along with the Norden Bombsight above and C.O. Smith, Korean War A-26 bombardier, pictured on the right below, were used in a recent documentary about the Norden Bombsight. C.O. is the last bombardier to actually use a Norden to drop bombs from an aircraft. We reworked the bombing system in Old Glory and installed my best Norden sight head and stabilizer in the nose. With the awesome cooperation of the U.S. Navy we were allowed to use their bombing range for this project and C.O. dropped six 100 pound practice bombs and he did real well considering that it had been over 50 years since these skills had been put to use. More on this historic project to come so please check back.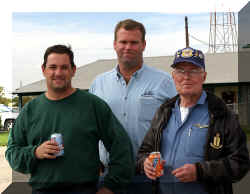 ---
Our recent trip to Oshkosh was a a real thrill. Mike Traud, who had just completed his type rating in the bomber, brought his son Chase along. Chase is a great kid who loves airplanes and especially Warbirds. Chase just wrote to me about his Oshkosh experiences so I thought I would share his story with you:
My Trip to Oshkosh
Hello my name is Chase Traud I am 12 years old and I was on board the B-25 to Oshkosh. My trip to Oshkosh was so cool because I got to ride in a B-25 bomber!! On July 26, 2004 at 2:30 am I was just getting out of bed to go on a trip of a lifetime and that was to Oshkosh. I was watching everybody cram pack the Bombay doors and try to shut them. When flying over Nebraska we went kind of low over the cornfields and that was my favorite part of the trip. And when we got there on July 26, 2004 it was amazing to see all the planes sitting on the grass. It was so cool to arrive in Old Glory. Most of the way I sat in back by one of the machine guns. It was a very long flight 10 hours I was sleeping most of the time. While I was there I did a lot of things including work in the aircraft records booth and also hung around the B-25. I also looked at the other B-25ís. The flight back to Stockton was not as fun as the flight there.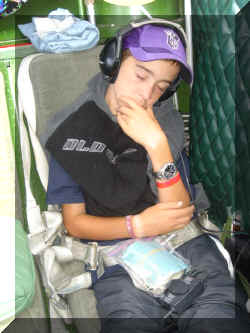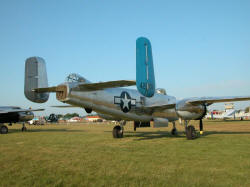 It was a great experience!!
I would love to go again!!
Here are some more OSH photos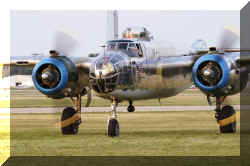 Taxiing in to OSH
Kelly having a bad time

The best part of this whole Warbird thing is letting the guys who flew these birds in WWII, get back into their seat! This is one of the heroes from our greatest generation who was showing me how the emergency brake system worked...I was impressed, to say the least, since it had only been 60 years!

Poor Mark had his hands full at OSH.

Mike is also having a bad time
TO ALL OF OUR COUNTRY'S VETERANS, WE HERE AT VINTAGE AIRCRAFT WOULD LIKE TO SAY:
THANK YOU FOR WHAT YOU DID FOR OUR COUNTRY!
HOME PAGE VINTAGE AIRCRAFT ANNOUNCEMENTS JOB OPPORTUNITIES WARBIRD-RIDES AIRCRAFT FOR SALE HOW THIS BEECH 18 MADNESS BEGAN THINKING ABOUT A TWIN BEECH PROJECT? BEECH 18 SPAR CONCERNS BEECH 18 SPAR STRAP KITS BEECH 18 GROUND TRANSPORTATION TWIN BEECH PHOTOS BEECHCRAFT RC-45J BEECH AT-11 KANSAN RESTORATION OF AT-11 41-27603 C-45H N314WN TECHNICAL MANUALS AND PUBLICATIONS STOCKTON FIELD AVIATION MUSEUM WWII WARBIRD GROUP NORDEN BOMB SIGHT WWII RADIO PAGE AIR SHOWS AND EVENTS VOLUNTEERS WAR STORIES B-25 OLD GLORY B-29 IT'S HAWG WILD B-29 42-65401 NOSE SECTION B-29 GUNNERY SYSTEM SEARCH THIS WEB SITE CONTACT US
VINTAGE AIRCRAFT
7432 C.E. DIXON STREET
STOCKTON, CALIFORNIA USA 95206
(209) 982 0273
(209) 982 4832 FAX
KEEP 'EM FLYING...FOR HISTORY!