ANNOUNCEMENTS
---
Our Warbird Group meetings are held at the Stockton Field Aviation Museum 7432 CE Dixon St., Stockton Metro Airport, on the third Wednesday of each odd month at 7 PM. This means that the meetings are in March, May, July etc on the third Wednesday. Please note that the group has decided to cancel the January meeting as it is too cold for our older members. Please join us as there is no admission charge. We also have an annual BBQ during the meeting in September and that meeting time is usually an hour early at 6 PM but be sure to check back here for the latest dates and times.
Next Warbird Group Meeting:
<![if !vml]><![endif]>Our next meeting will be Wednesday, September 19th 2018 at 6pm and it will be our Annual BBQ!
Our guest speaker is yet to be announced
For more information about the WWII Warbird Group you can visit: http://www.twinbeech.com/warbird_group_page.htm.
For more information about the Stockton Field Aviation Museum click here
If you, or a friend, would like to be placed on our e-mail list to be informed about upcoming events, just send an e-mail to me at: list@twinbeech.com
---
PAST UPDATES:
THE STOCKTON FIELD AVIATION MUSEUM WAS ROBBED!
Our museum and shop were broken into on September 1st, 2009. Click here to see what was stolen and maybe you can help us get the items back.
---
Check out the Dirty Bird Express page about our recent trip to Oshkosh Airventure 2009: Click here
---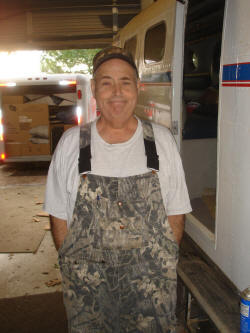 I am sad to report that Dave Warren passed away, Sunday January 28th, 2007 at 9:30am.
Dave Warren ran the biggest Beech 18 parts business in the world called Southwestern Aero Exchange. His vast knowledge and parts inventory has kept us all flying for many decades.
As information about his services becomes available I will post it here.
We will miss you Dave.
The funeral is planned for this coming Thursday at 10:00 am at Owasso Assembly Church of God. Internment will follow the funeral service. Shelly tells me the church is at 96th and 129th in Owasso, east of the Home Depot. I got the following address from the web:
OWASSO ASSEMBLY OF GOD, 918-272-5219
9341 NORTH 129TH EAST AVENUE, OWASSO OK 74055
Shelly would like to have as many friends of Dave show up as possible, so please pass the word. Also, if you care to have something said about Dave at the funeral, they will collect them and read them at the service.
---
Beech 18 Annual October 2006 Convention

Where else could you get a chance to talk about Beech 18s with this impressive lineup? Butch Card, Nick Quint, Pete Quortrup, Taigh Ramey, Rand Siegfried, David Warren, Sam Thomson, Rob Seeman (Covington) and Dick Wixom. A once a year chance to ask questions or share your experience and expertise in as friendly an atmosphere as you can find.
/color>
/fontfamily>This year's "Beech Party 2006" will be held October 11-15 in Tullahoma, TN at the site of the Beech 18/Staggerwing/Beech Bonanza-Baron Museums. We have excellent programs for Beech 18 owners/enthusiasts. We will be jackng up a Twin Beech and doing retraction tests as well as hands-on inspections. There will also maintenance discussions and an update on the status of the spar question. There will not be any major fund drives. We want you & your Twin Beech but please come even if your airplane can't make it.

Registration details are at www.staggerwing.com or by calling (931) 455-1974. Pre-register before September 25 & save.
---
NEW Vintage Aircraft is now offering wing spar x-rays for the Beech 18. We can now provide you with a complete x-ray and spar condition evaluation. We will remove your spar strap as necessary to give access for the x-ray inspection and we will do a condition inspection on your strap. We will re install your strap to its manufacturers specifications. You will receive the x-ray films, the written report and a CD full of digital pictures of your spar and the inside of your wing and truss structure.
We also offer modifications to your airframe to make it easier to remove and replace your spar strap the next time. It is pretty much a certainty that the revision to the spar inspection airworthiness directive will require repetitive inspections based on the calendar as well as airframe hours. Making it easier to remove the strap for future inspections will save you shop labor in the future.
Prices for the complete inspection will vary depending on what kind of strap you have and the time required to remove and replace it so call or e-mail for details.
---
PV-2 HARPOON BOMB DOORS STOLEN FROM EAGLE FIELD, CA.
Your help is needed in recovering a set of stolen PV-2 bomb bay doors, four in all, that were taken from Eagle Field in Dos Palos, California. Joe Davis tells me that doors were taken from their storage facility at Eagle Field within the last few months. These doors are for his PV-2 project and they are rare and hard to find. The picture above was taken of the doors on 8-20-04. Click on the thumbnail for a larger image. There aren't that many PV-2 projects out there these days so please check to see if these doors may have shown up. Note the condition and identifying features. Joe says that they smell strongly of the chemical Malithyon so it shouldn't be too hard to identify them. If you have any information about this please call Joe at (559) 269-7923 or you can e-mail him at jdavis@agriumretail.com
Any information is greatly appreciated and will be held in the strictest confidence.
---
wanted to let you know that the WWII Warbird group is having a meeting next Wednesday night, March 23rd, at the Stockton Field Aviation Museum at 7pm.
From the WWII Warbird president, John Schippers:
Our speaker will be Richard 'Dick' Bridgeford, WW II US Army Air Force glider pilot instructor. He was stationed with the Troop Carrier Command at Sheppard Field, Texas and Laurenberg-Maxton, North Carolina. No doubt some of his former students landed their Waco CG-4A cargo/troop gliders in Normandy on D-Day. Dick is well known on Stockton Field as a FBO and flight instructor. Many GIs came home and used the GI Bill to learn to fly at Bridgeford Flying Service, likely some of our members. It is estimated that as many as 7,000 were taught to fly through solo by Dick. Dick was a FAA Pilot Flight Examiner including an instrument instructor. Dick and partners established thriving aviation businesses known as Bridgeford Flying Service at Napa, Stockton and Lake Tahoe, which included Cessna Aircraft dealerships. Dick has the distinction of being the only light plane pilot to survive a midair collision with a PSA 727 passenger jet. Dick has authored the book "LIVING THE HIGH LIFE" a comprehensive historical biographical account of his many years as military and civilian pilot. Autographed copies will be available at our meeting. At 90 years of age and a long time citizen of Stockton he has encyclopedia knowledge WW II glider training and of post war Stockton Airport. Come out Wednesday and bring a friend.
---
The next WWII Warbird Group meeting will be on Wednesday January 26th at 7PM at the Stockton Field Aviation Museum.
From WWII Warbird President John Schippers:
Our January meeting will be at the Stockton Field Aviation Museum 7432 CE Dixon St., Stockton Metro Airport, Wednesday January 26th, 7:00 PM. Our speaker will be Gilbert Stokes, WW II B-24 pilot in the Southwest Pacific. Gil flew 25 missions with the 13th Air Force, 307th Bomb Group, 424 Squadron out of Morotai in the Moluccas Islands, located at the northwest end of New Guinea. Major targets were in Borneo, Java and the Philippines. Gil enlisted in 1943 and did all of his flight training in Texas. A retired California Highway Patrolman he settled down in Mountain Ranch, CA. He is the first speaker to our group from the 13th AF, a unit that has received less recognition than deserved. Known as the Long Rangers the 307th BG wore the distinctive large three digit aircraft numbers painted in black on a yellow panel on the nose of their B-24s. Gil was introduced to our group last September and at that time he invited his friend from England a RAF Wellington bomber pilot, Charles Wilson, to tell his story of bombing Europe. Come out Wednesday and bring a friend.
For more information click here
---
The American Aviation Historical Society is having its next meeting (Saturday, February 5th at 11am) at the Stockton Field Aviation museum. We will have several of the turrets up and running with guest speakers talking about their experiences.
There will be a charge by the AAHS for admission which will also get you one of Rick's famous tri-tip lunches.
For more information check out their web page at http://www.norcalaahs.org/meetings.htm
---
TWO FULL TIME POSITIONS AVAILABLE AT VINTAGE AIRCRAFT
WE HAVE OPENINGS FOR TWO FULL TIME RESTORATION TECHNICIANS AT VINTAGE AIRCRAFT. AIRFRAME AND POWER PLANT MECHANICS LICENSE IS NOT NECESSARY BUT A GREAT ATTITUDE AND GOOD COMMON SENSE IS. IF YOU WOULD LIKE TO BE A PART OF A GREAT TEAM AND HELP TO RESTORE SOME OF OUR COUNTRY'S AWESOME WARBIRDS, PLEASE SEND YOUR RESUME OR INQUIRIES TO:
---
The next WWII Warbird meeting will be November 17th, 2004 at 7pm. From the Warbird President, John Schippers:
Our November meeting will be at Taigh Ramey's
Hangar, 7432 C.E. Dixon St., Stockton Metro Airport, Wednesday November 17, 7 PM. Note that this is the third Wednesday of the month rather than the usual fourth Wednesday due to Thanksgiving of that week. Our speaker will be Charles "Bill" Pilgrim, 93 year old retired Pan American Airlines China Clipper pilot. Bill was born in 1911, went to work for Pan Am in 1929 and began his flying career flying the Sikorsky S-43 flying boat in early 1930s. From there to the Martin 130, the original China Clipper (1936) from San Francisco to Hawaii (2,400 miles, 17 to 24 hour flight depending on head winds). From there flew refueling segments to Midway and Wake Islands on to Manila, then Hong Kong, China. There were only three of the Martin 130s produced, the China Clipper, the Hawaiian Clipper and the Manila Clipper. All three flew the long routes on to Hong Kong, China. In 1939 the Boeing 314 was introduced and Bill flew it also. With increased range the 314 was able to fly longer legs beyond Hawaii and was able to skip Midway. While these aircraft flew the Atlantic as well as the Pacific they became most famous for their Pacific routes. The name 'China Clipper' was a generic name attached to all the flying boats. He also flew the Consolidated PB2Y-3 Coronado transport version in 943. During WW II the demand for constant transport of important military personnel and freight was essential to the war effort. Bill and his fellow Pan Am pilots were kept in company service flying hazardous routes all over the world. By the time the war was over the big four engined land transports had developed into reliable over water aircraft and the flying boat airliners were phased out. Bill transitioned into the DC-3, DC-4, DC-6, DC-7 and into jets, the Boeing 707. After all of this Bill ended up in corporate headquarters as an administrator.
For more information about the WWII Warbird Group click here.
---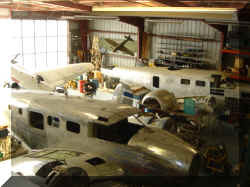 click on the image for a larger picture
Presently we have three Beech 18's in the shop. The one in the foreground is a D-18S that is being brought into an airworthy condition for its owners. She is a nice D model that is fairly stock and the owners would like her brought back into her original configuration.
The AT-11 in the back ground is a long term project which has her own web page. Click here to check out the progress.
Just visible on the left is another customer's aircraft that is in for an annual. This beautiful 3NM is one of our oldest customers and she is a real treat to work on.
---
Our next meeting of the WWII Warbird Group will be on Wednesday September 22, 2004 at the Stockton Field Aviation Museum.
Our guest speaker will be Gilbert Stokes, WW II B-24 pilot in the South Pacific. Gil flew 25 missions out of Morotai to Borneo, Java, Philippines and other island targets. He was in the 424th Squadron, 307th Bomb Group, 13th Air Force. He is a retired Californian Highway Patrolman presently living in Mt. Ranch, CA.
For more information about the WWII Warbird Group click here.
---
Check out the new page about Air shows and upcoming events by clicking the button at the bottom of the page or by clicking here
---
The Aerial Gunnery Symposium was the best event that we have had here at the museum to date. I will post pictures and a report soon. One nice article about our symposium in the Stockton Record can be seen by clicking here.
---
Vintage Aircraft is the proud owner of the Supplemental Type Certificate for the Aerospace Products spar strap kit for all of the Beech model 18's. We are the sole supplier for the best, most streamlined, spar strap for the Beech 18. This is also the only spar strap that is available today. Stay tuned for a web page about the spar strap kit that we offer.
---
Click here to visit our new Twin Beech photo page
---
Bob Parmerter's new book about the Beech 18 is finally here! Here are the details on how to get your copy:
Beech 18: A Civil & Military History
by Robert Parmerter

This is the complete story of the the Beechcraft Model 18‹the legendary Twin Beech
All you ever wanted to know about the Model 18.
It¹s a must for the home library of aviation enthusiasts, veterans, and pilots.
Top quality (both paper and content).

It describes in detail the 12 different civil models, 50 military variants and over 70 modifications of the Twin Beech with photos illustrating each model and modification.
Personal accounts of flying Twin Beeches and the many different civil and military uses to which they were put are included. The detailed captions alone account for 35,000 words
U.S. Navy and AAF/USAF Model 18 listings allow for the identification of the Beechcraft model for almost any of those 7,000 aircraft.

Specifications
Over 550 pages
Over 735 photos (350 in color)
9² x 12² hardcover with dust jacket
Over 275,000 words
Smyth sewn binding
An index of over 8,000 civil registrations (with c/ns)
A full index of people, models, and topics
Over 335 magazine articles and other sources listed
Over 1,250 endnotes with information and sources
Lists of the Model 18s with: floats (87), skis (44), turboprops (95), extended noses (42), Tri-Gear (349), Jr. JATO (62) and those with warbird finishes or in Museums (310).
The STC designations are included for hundreds of modifications.

Available by May 1, pre-publication offer until May 1.

Description and online ordering information found at www.staggerwing.com

The pre-publication price is $64.95 (plus $7.95 for U.S. s & h).
Rates for postage to the UK and Canada are found on the website and for other countries are available from Lorraine at
staggerwing@bellsouth.net

The book will weigh between 6-7 lbs (560 pages on high quality glossy paper) which explains the high shipping costs.
---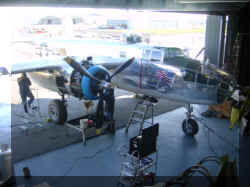 The B-25 receives some maintenance. She is in the process of getting her 100 hour inspection since we flew her 97 hours last year.
---
The next meeting of the WWII Warbird Group will be Wednesday evening March 24th at 7PM.
If you, or a friend, would like to be placed on our e-mail list to be informed about upcoming events, just send an e-mail to me at: list@twinbeech.com
For more information about the meeting and the WWII Warbird group click here.
---
Gunnery and aircraft turret symposium March 13th, 2004
For more information about the symposium click here
---
It is with great sadness that I have to announce,
Albert Pardini passed away on Friday January 16th, 2004.
Al was a great man who ran the bomb sight overhaul shop at McClellan Air Force Base in Sacramento during WWII. Every bombsight in the Pacific Theatre that was overhauled was sent to his shop. Al was responsible for many Norden bomb sight improvements and received several awards for his efforts. One of his proudest achievements was a working bombsight made out of Plexiglas as a demonstration model. Recently he authored the book The Legendary Norden Bombsight which is a great piece of technical work about the development of the sight.
I enjoyed listening to Al's stories and I learned so much from him. Thank you for what you did for our country.
We will miss you Albert Pardini!
---
We also have a new web page which will show the restoration of an AT-11 from start to first flight. Click here to watch the progress.
Click here to visit the new WWII radio page
Click here to visit the new B-29 nose section page
Click here to visit the Norden Bombsight web page
---
THE FUTURE OF AIRPLANE RIDES NEEDS YOUR HELP
I, as well as many other aviation enthusiasts and professionals, need your help to keep the FAA from ending forever one of aviation's oldest professions -- the airplane ride.
The FAA is considering revising the regulations governing those of us who offer rides to the public in our aircraft. Under the proposed rule all operators who fly any aircraft for scenic flights will be forced to comply with the same regulations under which the airlines currently fly (Part 135). This will essentially eliminate those of us who offer rides in vintage, antique and ex military aircraft. It will also hurt the people who fly modern aircraft and those who fly charitable rides as well.
I have been flying rides in my Twin Beech for the last 14 years (an SNB-1 and the RC-45J) at air shows, airport open houses, and here at Stockton Airport. I have had to comply with strict regulations, have had inspections on my Beech and limitations on its operations, I have undergone countless FAA ramp inspections and I have had to take routine drug tests. I personally, and the ride industry itself, have had a very safe flying record and the statistics do not warrant this burden which is being placed upon us. I have personally flown several thousand passengers, and I can say with confidence that they have all had a great time and more importantly, a safe flight. Under the proposed rule the public will no longer be able to experience the thrill of flying many antique and Warbird aircraft. In addition, there is little indication that the proposed rule will enhance passenger safety.
You can help by leaving your comments about this proposed ruling on the FAA's web site. The deadline to leave your comments has been extended . For those of you who may have flown with me and for any one else who is an aviation enthusiast, I need to ask you a favor; Please take a few minutes and let the FAA know that:
1) The proposed rule would place an unnecessary burden on the people who offer rides to the public.
2) This rule would deprive the public of the opportunity to fly in and experience aviation's great heritage first hand.
3) The statistics do not indicate that the public is in danger by going for a ride with these air tour operators.
4) You do not support FAA Docket Number 1998-4521 and you would like it removed from the federal register.
To leave your comments please visit the FAA web site for the specific Notice of Proposed Rule Making at:
http://dms.dot.gov/search/searchResultsSimple.cfm?numberValue=4521&searchType=docket
At this site you can view the proposed rule and can see the comments that others have left for the FAA. At the bottom of the page you can click on the button to leave your comments.
Here is another great place to learn more about this proposed rule:
http://nationalairtours.org/sight.html
Here is our web page that shows a few pictures of the passengers that have flown in the Twin Beech:
http://www.twinbeech.com/images/warbirdrides/warbirdrides.htm
Our business Vintage Aircraft, and the survival of the Stockton Field Aviation Museum depends greatly on the income from flying rides in the Beech. We need your help. Please take the time to make your thoughts about this known to the FAA. I personally, and countless others, really do need your support.
Please forward this to anyone who might be able to help us out.
---
Gunnery and aircraft turret symposium March 13th, 2004
For more information about the symposium click here for a PDF file
Updates from Vintage Aircraft with photos of current projects
North American B-25 Old Glory 44-28938 web page
If you, or a friend, would like to be placed on our e-mail list to be informed about upcoming events, just send an e-mail to me at: list@twinbeech.com
---
TO ALL OF OUR COUNTRY'S VETERANS, WE HERE AT VINTAGE AIRCRAFT WOULD LIKE TO SAY:
THANK YOU FOR WHAT YOU DID FOR OUR COUNTRY!
HOME PAGE VINTAGE AIRCRAFT ANNOUNCEMENTS JOB OPPORTUNITIES WARBIRD-RIDES AIRCRAFT FOR SALE HOW THIS BEECH 18 MADNESS BEGAN THINKING ABOUT A TWIN BEECH PROJECT? BEECH 18 SPAR CONCERNS BEECH 18 SPAR STRAP KITS BEECH 18 GROUND TRANSPORTATION TWIN BEECH PHOTOS BEECHCRAFT RC-45J BEECH AT-11 KANSAN RESTORATION OF AT-11 41-27603 C-45H N314WN TECHNICAL MANUALS AND PUBLICATIONS STOCKTON FIELD AVIATION MUSEUM WWII WARBIRD GROUP NORDEN BOMB SIGHT WWII RADIO PAGE AIR SHOWS AND EVENTS VOLUNTEERS WAR STORIES B-25 OLD GLORY B-29 IT'S HAWG WILD B-29 42-65401 NOSE SECTION B-29 GUNNERY SYSTEM SEARCH THIS WEB SITE CONTACT US
VINTAGE AIRCRAFT
7432 C.E. DIXON STREET
STOCKTON, CALIFORNIA USA 95206
(209) 982 0273
(209) 982 4832 FAX
KEEP 'EM FLYING...FOR HISTORY!