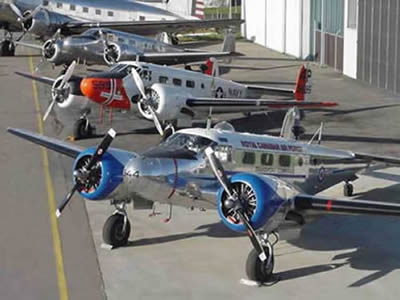 Hello and welcome to Twinbeech.com, the online home for Vintage Aircraft. We are a multifaceted company which is dedicated to the preservation and restoration of our nation's aviation heritage with a specialty for the famous Twin Beech but an affinity for all types of vintage aircraft.
For flight instruction in the Twin Beech 18, call 209-982-0273
We have hands on experience on many different types of ex-military or Warbird aircraft but our specialty lies with the Twin Beech or Beech 18.
If you need help finding the right Twin Beech to buy or flight instruction to help you understand the idiosyncrasies of the Twin Beech, please give us a call. If you need some advice on a project, or need your Twin Beech restored to an award winning finish please consider Vintage Aircraft. We speak "Twin Beech" and we are here to help you learn the language too.
To visit other areas of twinbeech.com just click on the links below or on the left side of this page.
Thanks for visiting and please check back often as we are always adding new information and pictures.
VINTAGE AIRCRAFT
7432 C.E. DIXON STREET
STOCKTON, CALIFORNIA USA 95206
(209) 982 0273
(209) 982 4832 FAX
HOME PAGE VINTAGE AIRCRAFT ANNOUNCEMENTS JOB OPPORTUNITIES WARBIRD-RIDES AIRCRAFT FOR SALE HOW THIS BEECH 18 MADNESS BEGAN THINKING ABOUT A TWIN BEECH PROJECT? BEECH 18 SPAR CONCERNS BEECH 18 SPAR STRAP KITS BEECH 18 GROUND TRANSPORTATION TWIN BEECH PHOTOS BEECHCRAFT RC-45J BEECH AT-11 KANSAN RESTORATION OF AT-11 41-27603 C-45H N314WN TECHNICAL MANUALS AND PUBLICATIONS STOCKTON FIELD AVIATION MUSEUM WWII WARBIRD GROUP NORDEN BOMB SIGHT WWII RADIO PAGE AIR SHOWS AND EVENTS VOLUNTEERS WAR STORIES B-25 OLD GLORY B-29 IT'S HAWG WILD B-29 42-65401 NOSE SECTION B-29 GUNNERY SYSTEM SEARCH THIS WEB SITE CONTACT US
KEEP 'EM FLYING...FOR HISTORY!
Any photos, information, text etc. found on this web site cannot be copied or reproduced without the express written consent of the original photographer, author or owner. For questions concerning this contact Taigh Ramey at copyright@twinbeech.com