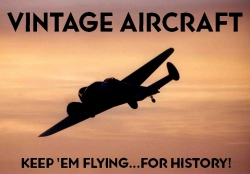 COLLINGS FOUNDATION B-24J RADIO PROJECT
---
Created 11-28-07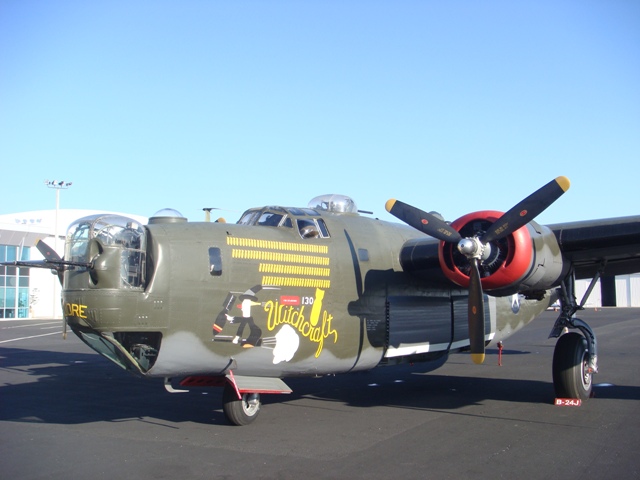 Here is an exciting project. Rob Collings is always wanting to improve the beautiful and rare aircraft at the Collings Foundation. One of the things that makes Rob stand out from a lot of other Warbird owners is his desire for complete authenticity. You will notice that his aircraft are not painted with inaccurate gloss paints but they are flat or lusterless just like they were in WWII.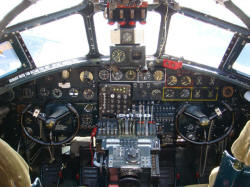 Click on an image for a larger picture
If you look at the instrument panel of the B-24J you will have to search pretty hard to find any modern avionics which typically fill up instrument panels in present day restorations. The Foundation was one of the first to hide the radios and keep the cockpit as authentic as possible. The modern radios are under the C-1 autopilot panel control head in the photo above. To me this is wonderful as it is a tribute to the people who designed, built, flew and maintained these aircraft from our greatest generation. The Collings would like their aircraft to be as authentic as possible and they are trying to improve them as they can. Since the aircraft are working and are on the road over 10 months out of the year it is difficult to work on these kinds of details but thankfully the Foundation is excited to let others help to improve their aircraft.
One great project, that no one has done before in a WWII bomber, is to get the radio gear fixed up and running. Well that is exactly what is going on in the B-24J right now. The plan is to get the BC-375 liaison transmitter and the BC-348 receiver operational. To what end you might ask? How about getting some WWII radio operators back behind their keys and microphones so they can show us what they did in WWII. To me this is long over due. Radio operators and their importance in aviation have been neglected for way too long. Navigators, aerial gunners, bombardiers and ground crewmen are also on the neglected list. I hope to change this and, thanks to Rob and the Collings Foundation, this project is about to take flight.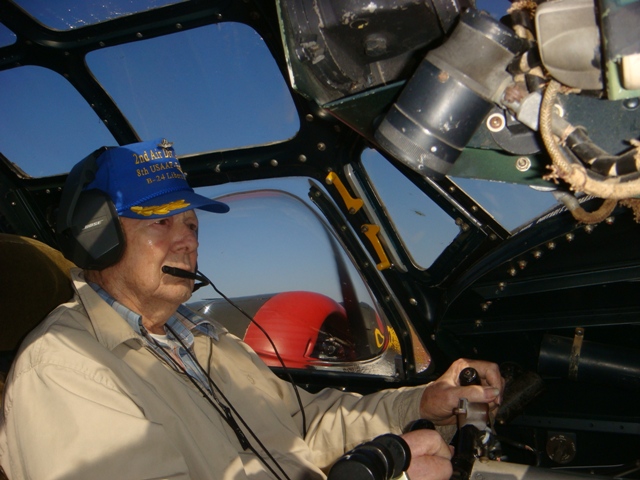 For example; Here is 89 year old Rowe Bowen, a WWII B-24 pilot who flew 32 missions over Germany taking the controls of the B-24J again for the first time in 62 years and he hadn't missed a beat at all. Rowe did a masterful job flying. It was as if he had just flown his last mission that very morning. This was made possible by Rob Collings, Jim Goolsby and the Collings Foundation. For more information about the Collings Foundation click here. This kind of thing is not new as the Collings Foundation has been getting WWII veterans back up in the aircraft ever since they started flying these Warbirds. What is new, however, is the future projects like getting the radios up and running.
Here are some excerpts from the B-24J tech manual showing the flight deck radios. Steve Williams has taken these radios and now has them operational and back on the air from his shop. The next step is to wire them into the aircraft and make them work in flight.
You might be wondering what we are going to do with operational radios in a WWII bomber? Well there are a lot of old military radio collectors around the country and the world who have the same and similar radios which are capable of talking to each other. These folks get together on certain frequencies and communicate with these WWII radios. They also show them to the public at meets around the country. I would like to find some WWII radio operators who would like to broadcast from Rob's B-24 while flying between stops when the aircraft are traveling around the country. This is how we would like to bring history alive again for a very important aspect of WWII aviation. If we can help some of the WWII folks relive some memories and at the same time teach their kids, grand kids and great grand kids what Grandma and Grandpa did in WWII then we can also help to pass on the history to future generations. Maybe we can get folks to gather around their radio (okay maybe the computer for a webcast too) to hear a radio operator broadcast from his seat in a 1944 bomber. It has been a dream for a long time but now it is coming into reality thanks to Rob and the Collings Foundation.
If you know any WWII radio operators who are willing and able to get behind the key in a flying B-24J please have them contact me at taigh@twinbeech.com or call (209) 982 0273
Stay tuned for updates as progress is made on this amazing project.
TO ALL OF OUR COUNTRY'S VETERANS, WE HERE AT VINTAGE AIRCRAFT WOULD LIKE TO SAY:
THANK YOU FOR WHAT YOU DID FOR OUR COUNTRY!
HOME PAGE VINTAGE AIRCRAFT ANNOUNCEMENTS JOB OPPORTUNITIES WARBIRD-RIDES AIRCRAFT FOR SALE HOW THIS BEECH 18 MADNESS BEGAN THINKING ABOUT A TWIN BEECH PROJECT? BEECH 18 SPAR CONCERNS BEECH 18 SPAR STRAP KITS BEECH 18 GROUND TRANSPORTATION TWIN BEECH PHOTOS BEECHCRAFT RC-45J BEECH AT-11 KANSAN RESTORATION OF AT-11 41-27603 C-45H N314WN TECHNICAL MANUALS AND PUBLICATIONS STOCKTON FIELD AVIATION MUSEUM WWII WARBIRD GROUP NORDEN BOMB SIGHT WWII RADIO PAGE AIR SHOWS AND EVENTS VOLUNTEERS WAR STORIES B-25 OLD GLORY B-29 IT'S HAWG WILD B-29 42-65401 NOSE SECTION B-29 GUNNERY SYSTEM HUMOR SEARCH THIS WEB SITE CONTACT US
VINTAGE AIRCRAFT
7432 C.E. DIXON STREET
STOCKTON, CALIFORNIA USA 95206
(209) 982 0273
(209) 982 4832 FAX
KEEP 'EM FLYING...FOR HISTORY!
All photos and information on this web site cannot be copied or used without the express written consent of the original author, photographer, Taigh Ramey and twinbeech.com